Design Dilemma: Bathroom remodeling considerations
Bathroom remodels can be traumatic but satisfying. If you've got only one bathroom in the house, it may be hard to deal with the lack of a shower or bathroom sink for a while. On the other hand, the results can be oh so satisfying. Especially if you've lived for years with common bathroom foibles and flaws — lack of storage space, pink tiles, bathroom fixtures that just don't fit your lifestyle, for whatever reason.
Are you about to embark on a bathroom remodel? Here are a few things you should keep in mind in reconfiguring your new space:
Do you really need a tub?
More and more homeowners are dispensing with the tub altogether if they rarely use it. This can be a controversial move, as realtors may tell you that you need to hang onto that tub for re-sale value. But if you plan on staying in your home for a while and you discover that a tub is much safer and easier to get in and out of, don't hesitate to make the change. This is especially true if you have another tub in your house.
And speaking of walk-in showers, more and more homeowners are opting for features that were uncommon a decade or two ago. For one, as above, more homeowners are creating a place to sit down. This is especially useful for those with small children or seniors in the house. Secondly, another consideration may be building a walk-in shower without a threshold. Again, this comes in handy with the elderly who may have difficulty lifting feet. Here's another example here:
And as long as we are discussing showers that are friendly to seniors and the disabled, another consideration in a new bathroom model is grab bars. These don't have to be as ugly as you might imagine. If grab bars are built into your design to work with your other fixtures, they carry through, and even enhance, your look. For example: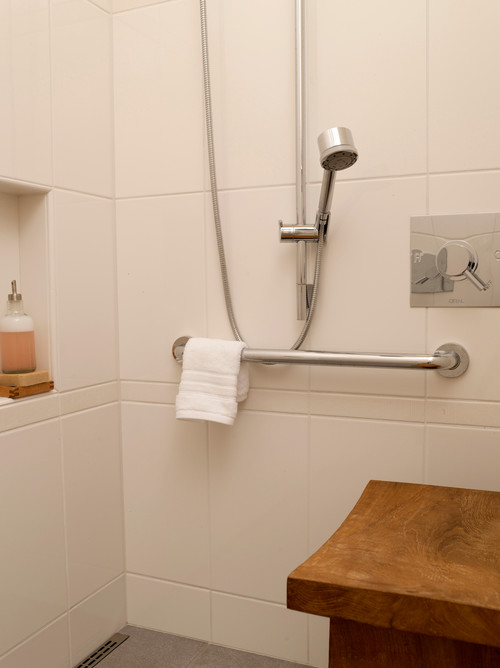 And notice about the industrial zen bathroom above that there is also a space to sit. Showers can be taken sitting down or standing up, which is a big boon to the elderly, handicap or infirm.
Have you planned for storage?
We're not talking only about storage for towels and bathroom supplies. We're also talking about built-in niches that keep beauty and bath necessities handy when you need them. This includes smartly-placed niches and shelves in the shower for shampoo and soap, as well as smartly-placed holders for toilet paper, towels, toilet brushes and even books and magazines, if you like to keep them on hand in the bathroom.
Below, find an example of a bathroom with a hidden niche for reading material right next to the toilet. There's also a deep window sill that can hold toiletries, a shelf adjacent to the bathtub for towels or other bath necessities (perhaps candles on a romantic evening?) Small details like these mean that additional racks and shelves can be completely eliminated, keeping the look clean and clutter-free.
Bathroom remodels can be torturous but also a lot of fun. Keep in mind a few details about your lifestyle and create a design that makes your bathroom safer and more functional than ever before.