It's not often that we stumble across a bathroom where we'd really want to spend a lot of time. But this particular bathroom we could linger in for hours, soaking up the industrial ambiance while soaping up in the shower.
What we love: the use of classic fixtures, subway tiles in the shower and cement tiles on the floor, in a very graphic, bold and modern way.
Take a look:
The bathroom was truly small before the renovation. It measured only 33 square feet before it was enlarged and reconfigured by breaking into a nearby linen closet. It now measures 49 square feet. The designer was able to maximize space by using a pocket door rather than a swing in door, and dispensing with a tub altogether.
Exchanging a few traditional elements allowed the owners to add a few touches of luxury. For example, the double sinks.
And here:
And the larger than average shower stall:
But what really makes this bathroom a stand out are the fixtures. The vanity is actually a repurposed TV console of reclaimed wood.  It worked perfectly because it was open enough not to have to worry so much about fitting in the plumbing underneath. The industrial faucets of black metal recall the wheels of a train. The railroad theme was an important one, since the house is located near the railroad tracks and the owners wanted to use this motif in their renovation. The P-traps underneath the sink were also found in a matte black that works with the industrial-style pane glass of the shower and the faucets.
And the coup de grace in this modern yet old-fashioned bathroom is the black and white encaustic cement floors.These are the types of floors commonly found in homes in Old World Europe and which have been making a resurgence in the design world in recent years.
The faucets in the shower carry on the industrial theme look and match the faucets of the sinks.
The hexagonal floor tile in the shower looks fabulous against the subway tile and the cement tile of the main floor.
The glass panel of the shower is fixed, and designed for easy clean-up. It is paned on the outside, but inside one flat service to allow for easy cleaning.
Clean, classic, graphic, bold —- we love how this bathroom has come together!
There's been a trend afoot in bathrooms in recent years — bathrooms without tubs. Although tubs were for many years a staple of bathrooms, the truth is that today, most of us use them very rarely. Taking a bath has become almost a special occasion ritual reserved for children, dog washing, sore backs, or maybe a romantic interlude complete with candles. It is not, however, the stuff of everyday life, as revealed by one recent poll that found that 56 percent of people surveyed say they never use the tub for taking a bath. So more of us are asking, why do we need a tub anyway? And if we get rid of the tub, what can we do with all that extra space? Below, let's look at a few ideas.
The above bathroom formerly housed a tub underneath the window. But the couple who owned this home in Philadelphia tired of a bathtub they rarely used and decided to open up the space to create an airy, spacious bathroom with a simple open shower, enclosed by a glass panel on one side that is not visible in this picture. The decision was especially easy to make since they have another bathroom with a tub. The bathroom was designed by Brian Osborne of Osborne Construction and Niko Dyshniku of Kole Made.
Here's what it looked like before they made the change: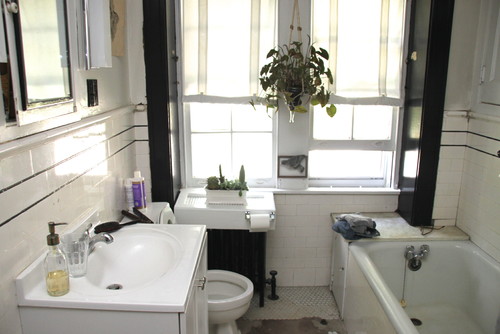 Another successful renovation, below, also eliminates the tub to beautiful effect. The renovated bathroom by Projekt Home (Paul Kenning Stewart Design) uses space efficiently in a condominium home. The room feels light and bright, which it definitely did not before the renovation. Best thing about it all is that the bathroom is virtually maintenance free.
Here's what it looked like before: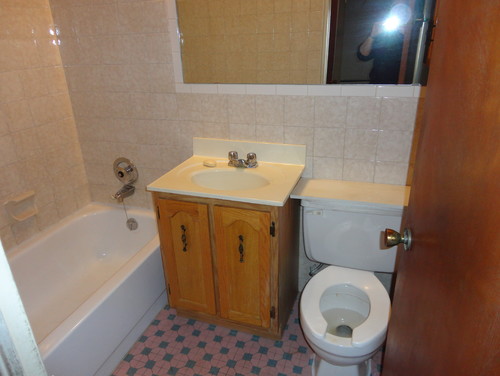 Here's a third renovation that gains a lot in the process of elimination. The shower is now an easy-to-access walk-in shower in a 1920s style home. Corine Maggio of CM Natural Designs is behind the look.
When you see the before, below, it's easy to see what the impetus was for change. The old bathroom was run of the mill blah, and not comfortable to use.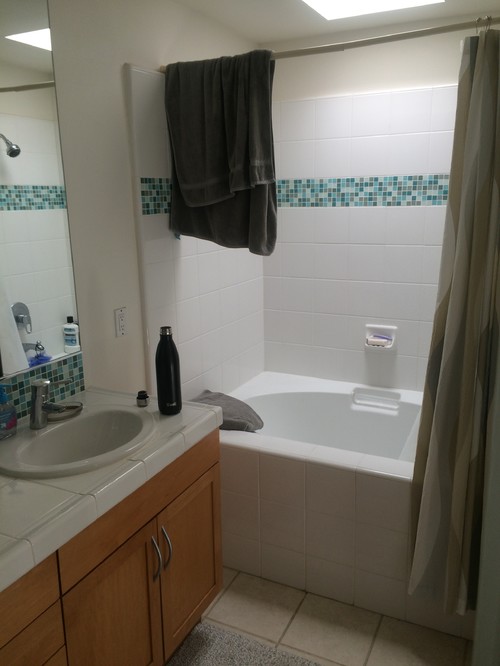 Wow! These renovations could not be better inspiration to remove your old rarely-used tub to create a spacious new walk-in shower!
This is the time of year when many of us don our gardening gloves, anxious to get back to cultivating our roses or growing our tomatoes.  Those of us with a green thumb have thriving backyard gardens, but others of us struggle with getting anything to grow. Thankfully, there is one form of "gardening" available to all, regardless of skill level. In fact, this form of gardening requires very little effort at all, and very little time or money, and yet it has a dramatic effect on the look and feel of your home: behold the power of the window box.
A window box is a simple little flourish with plenty of benefits. Window boxes instantly boost the curb appeal of your home. They lend your home a sense of style and grace. They are easily changed with the seasons, and can be maintained even during the winter, when nothing will grow in your garden. If you are putting your home on the market, window boxes will impress potential buyers by making your home appear cared for and quaint. They will very likely help sell your home. If you are an apartment dweller, window boxes offer you a chance to indulge your urge to garden, even without a yard. In short, there is a lot to celebrate with a window box.
Just look at the home above. It's not for sale, but if it were, I would buy it. A long window box along the expanse of the window visible from the street instantly projects a feeling that this home has been well-maintained. The cascading flowers add color and interest to the look of the home, giving it a little pizazz. The box is a wooden one that is attached to the shingling on the home, but there's no need to get that involved.
The window box above is a simple wrought iron holder that can be bought at any hardware store to hook over the window frame. It's the simplest way to install a box in any window around your house.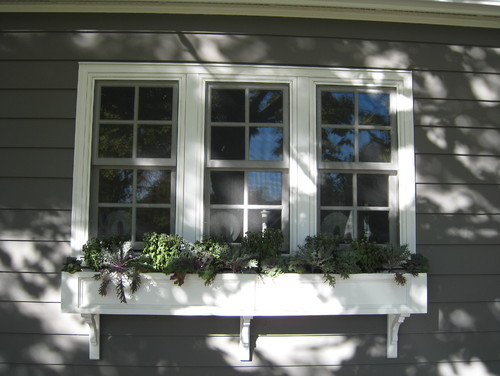 Although most of us want to plant flowers in our window boxes, the nice thing about boxes is that they are multi-seasonal. They can be used to plant greens in the fall and winter, when flowers aren't blooming. Above and below, you see two examples. One window box has been filled with greens and cabbages that can take the cooler temperatures of autumn. The other window box has taken on the role of a decorative vase, allowing a display area for holiday fir branches and Christmas decorations.
There's no reason to reserve window boxes for stately buildings. They can work their magic anywhere. Here, we see a garage with a window box, which instantly elevates the building from it's backyard status to something special.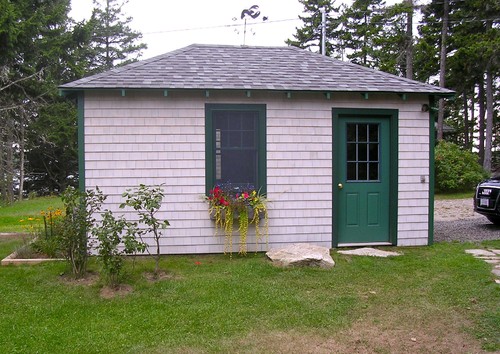 And there's no reason at all why window boxes can't also accommodate box shrubs or other types of evergreen shrubs, as you see below.
Finally, window boxes can work inside too. It's the best way to enjoy a little nature indoors.
Are you ready to jump in and plant a window box? Keep these tips in mind:
Remember the  sun. Knowing how much sun exposure your window box gets during the course of the day will dictate what kinds of plant you can use. Window boxes in full sun and partial sun will present more growing options for colorful annuals, perennials and succulents than those placed in partial to full shade.
Choose your plants accordingly. Once you know what kind of sun exposure you will plant for, select plants accordingly. Keep in mind the climate of where you live. Many window box gardeners opt for geraniums, as they are hardy and thrive in both warm and cool temps.
Aim for a variety of heights. If you want a really beautiful window box, choose tall plants mixed with plants that will spread out, mixed with plants that drape or cascade.
Don't forget maintenance. Annuals like impatiensand petunia work well for window boxes but need to be changed more often. Longer lasting perennials include geraniums, lavender and herbs. A small-scale evergreen, such as a dwarf boxwood or cypress, adds four-season interest to the planter, even if you swap out the flowering plants each season.