This is the time of year when many of us don our gardening gloves, anxious to get back to cultivating our roses or growing our tomatoes.  Those of us with a green thumb have thriving backyard gardens, but others of us struggle with getting anything to grow. Thankfully, there is one form of "gardening" available to all, regardless of skill level. In fact, this form of gardening requires very little effort at all, and very little time or money, and yet it has a dramatic effect on the look and feel of your home: behold the power of the window box.
A window box is a simple little flourish with plenty of benefits. Window boxes instantly boost the curb appeal of your home. They lend your home a sense of style and grace. They are easily changed with the seasons, and can be maintained even during the winter, when nothing will grow in your garden. If you are putting your home on the market, window boxes will impress potential buyers by making your home appear cared for and quaint. They will very likely help sell your home. If you are an apartment dweller, window boxes offer you a chance to indulge your urge to garden, even without a yard. In short, there is a lot to celebrate with a window box.
Just look at the home above. It's not for sale, but if it were, I would buy it. A long window box along the expanse of the window visible from the street instantly projects a feeling that this home has been well-maintained. The cascading flowers add color and interest to the look of the home, giving it a little pizazz. The box is a wooden one that is attached to the shingling on the home, but there's no need to get that involved.
The window box above is a simple wrought iron holder that can be bought at any hardware store to hook over the window frame. It's the simplest way to install a box in any window around your house.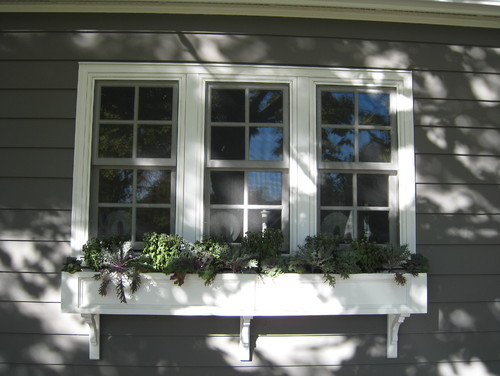 Although most of us want to plant flowers in our window boxes, the nice thing about boxes is that they are multi-seasonal. They can be used to plant greens in the fall and winter, when flowers aren't blooming. Above and below, you see two examples. One window box has been filled with greens and cabbages that can take the cooler temperatures of autumn. The other window box has taken on the role of a decorative vase, allowing a display area for holiday fir branches and Christmas decorations.
There's no reason to reserve window boxes for stately buildings. They can work their magic anywhere. Here, we see a garage with a window box, which instantly elevates the building from it's backyard status to something special.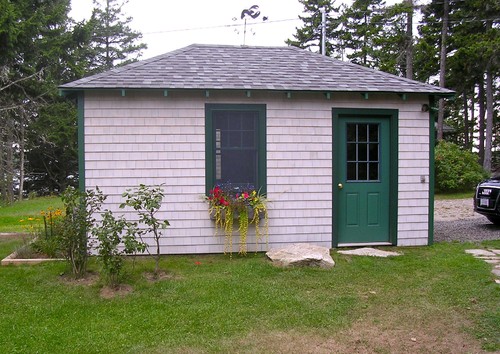 And there's no reason at all why window boxes can't also accommodate box shrubs or other types of evergreen shrubs, as you see below.
Finally, window boxes can work inside too. It's the best way to enjoy a little nature indoors.
Are you ready to jump in and plant a window box? Keep these tips in mind:
Remember the  sun. Knowing how much sun exposure your window box gets during the course of the day will dictate what kinds of plant you can use. Window boxes in full sun and partial sun will present more growing options for colorful annuals, perennials and succulents than those placed in partial to full shade.
Choose your plants accordingly. Once you know what kind of sun exposure you will plant for, select plants accordingly. Keep in mind the climate of where you live. Many window box gardeners opt for geraniums, as they are hardy and thrive in both warm and cool temps.
Aim for a variety of heights. If you want a really beautiful window box, choose tall plants mixed with plants that will spread out, mixed with plants that drape or cascade.
Don't forget maintenance. Annuals like impatiensand petunia work well for window boxes but need to be changed more often. Longer lasting perennials include geraniums, lavender and herbs. A small-scale evergreen, such as a dwarf boxwood or cypress, adds four-season interest to the planter, even if you swap out the flowering plants each season.
Earlier this month, we took a look at a Danish home featuring severe minimalism. Everything was white — walls, furniture, floors. This time, we're looking at a Danish home done up in the exact opposite style  Scandinavian maximalism!
What does that mean? Try walls painted dark moody colors, ceilings that have been stenciled in a pattern or wallpapered, floors that have also been treated the same, and plenty of art work, objects d'art, shaggy rugs and dramatic flourishes. It's not a look that you often see in Scandinavia, but the owners of this apartment wanted to try something a little different from the all-white norm.
The owner, in fact, says she doesn't believe in half measures. When you decorate, she feels you have to go all the way. It's not enough to paint one accent wall a brilliant color and leave everything else white, as, in her opinion, there's no consistency. So she's worked toward consistency by stenciling her ceilings to match all the drama down below.
Here is the ceiling during the process:
And here is the finished product:
Opting for a dark color on the walls creates a moodiness that white walls can't touch:
One of the most impressively maximalist features is a dining room wall papered with the image of a Spoonbill bird. The owner found the poster online for $500:
The bedroom ceilings have been painted as well, providing lots of color and pattern. The ceiling is painted gold and black and decorated with old playbills and Bjørn Wiinblad posters.
And here's the kitchen:
Kudos to this homeowner for being brave enough to challenge the conventional Scandi all-white look! We think the moody coziness of the space is perfect for short gray Danish days and long dark Danish nights!
It's never too early to prepare for summer. And one of the best ways to enjoy summer for as long as possible is through your home's atmosphere and decor.
Need expert styling tips on how to recreate the feeling of summer throughout your living spaces? Read on for the best of the bunch.
1. Go blue.
A dash of blue here and there brings to mind the seaside, lakes, and endless blue skies. There are few other colors that so clearly recalls seaside and summer imagery than the color blue.
Decorating with blue can take many different turns. You could paint an accent wall blue. Or mix and match various shades of blue throughout a room. A blue floor is different enough to appeal to those who want to do something slightly unusual.
Whatever your choice, blue is the color of summer. So let it come out to play as you do your summertime redecorating.
2. Feature summer bounty from your garden.
Welcome visitors into your house with a summertime wreath on your front door or in your foyer. Summer is when the fruits of your garden are at a high yield. A basket of fruits on your kitchen counter serve both a beautiful design element as well as being a better alternative to junk snacks. Flowers, too, are in abundance during this time. So both flowers and fruits make for perfect decorative elements.
Freshly cut wildflowers in jars and vases throughout your home will bring the beautiful outdoors into your indoor spaces. Hosting a dinner party? Flowers are a great conversation starter. And your favorite flower can say a lot about your personality type or about the character of the person you love. Aside from that, they are an earth-friendly decoration and much preferred over decorations that head to the bin after one use.
3. Spruce up your porch.
Summer evenings are best enjoyed outdoors. But if the state of your porch has hampered your enjoyment of summer evenings in years past, then change things up this year.
Put a fresh coat of paint on your porch. Do it now before it gets too hot to endeavor this undertaking. Repaint your porch swing, or reupholster it, if it has begun to look a bit natty. Purchase linens and new cushion covers. Set up a side table for drinks and other items.
Research ways to keep mosquitoes away from your house. Stagnant water is a breeding spot for mosquitoes, so make sure that anything that can collect rainwater is covered and drained. Plant natural repellents, such as citronella. And invest in candles and other bug-shooing devices for a pest-free summer evening outdoors.
4. Memorialize past summer memories.
Create a wall for commemorating past well-loved summer memories. Don't only stick to photographs. To create visual interest, use other mediums, too. For example, frame ticket stubs or other knickknacks from that perfect vacation with the whole family.
You could frame a map of a favorite vacation spot. Or a map of the world, with pins on each spot you have visited. If you collected seashells during the trip, find a way to feature that on your memory wall.
Increase your enjoyment of your living room, or some other open space by making it a celebration of a well-loved summer from years ago. Celebrating past summers will help you realize the treasure that each summer brings with it.
5. Rethink your window hangings.
Your windows are how the sun comes in and how you view the world outside. During the winter, your drapes pull double duty in being window dressing plus warding off the chill. But during the summer, drapes become more of an obstruction than a dressing.
Instead of drapes, opt for colorful blinds that can be fully lifted up and out of the way to allow for the maximum enjoyment of the outdoors. Blinds can be drawn down when the sun's rays are trying to break in. Go for blinds that are splashy and bright! Or use flowy, light, gauzy lace curtains that float on the breeze and give the impression of being hardly there (remember the art of Lagom). Or, use nautical rope as window dressing to give your living room the impression of being at sea, or at least along the coast.
Your enjoyment of those summer days will be improved with the right framework from which to enjoy them. It might be spring outdoors, but indoors, your home is ready to welcome summer and summertime guests with open arms.