This week, we thought we'd take a look at two very different design aesthetics, a reminder that there are no real style rules — decorate how you see fit! Check out the Washington DC condo of Irwin Gueco, who has outfitted his 495 square foot space with an eclectic mix of color, texture and art. Gueco, an architect by trade and working at the National Gallery of Art, came to Washington to get his master's in architecture. He began renting in a different apartment in the same Art Deco building he lives in now. He rented for about eight years before buying his condo.
The walls in Gueco's home are covered with art. Every wall is a gallery wall featuring photos, drawings, paintings, and posters and memorabilia from events that he's attended.
One of the first things you notice are bright pops of color, that show up in art, but that are repeated in pillows and other accessories.
Here's a detail shot:
A colorful chair, inherited, from his parents, such as the 1973 orange Knoll keep things warm and fun.
Although the walls are all white, his home gives you anything but a cold, sterile feel. It's fun, and very well thought out.
Here's a shot of his bedroom:
And the entryway:
Now we take a look at a totally different approach. The apartment below belongs to Laura Dragotti and is located in an Art Nouveau building in Milan. Everything is white or off white, from the walls, to the floors to the furnishings.
All the appliances and kitchenware from refrigerators to pots and pans are in white.
And in one of the bedrooms, a touch of black:
And a second bedroom:
Although these two homes would seem to be utterly different, they do have commonalities. They are simple and informal in style, and chock full of mementos and memorabilia.
The design takeaway: Keep things simple, fun, authentic, with a consistent design vision and you can't go wrong.
If there's one design trend that's been going strong in recent years, it's the trend to freestanding bathtubs. Elegant, often sculptural, with a bit of an artistic flare, a stand-alone bathtub is a chance to inject a little bit of luxury into a bathroom.  And plenty of people, it seems, are seizing the opportunity.  There are probably several reasons for the trend. For one, separate shower stalls are now standard in many newer homes, as opposed to the tub/shower combo of earlier years. This frees homeowners to select something a little bit different when it comes to the tub. Also, bathrooms in newer homes are often larger, allowing more space than the smaller bathrooms of the past. So there's plenty of space to experiment with a freestanding tub. Finally, more homeowners are looking for luxury at home, and there's no simpler way to get that feeling than with a freestanding tub.
If you're interested in installing a freestanding tub in your bathroom, here are a few things you should consider:
1. Do you have the space? Will you be able to place your tub a few inches away from the wall, or will it feel "squeezed in"? When it's delivered, will it even fit through your doors and up your stairways? Avoid nasty surprises by measuring carefully.
2. Consider a smaller foot-print claw foot tub for smaller bathrooms. The bathroom below is not very large, and yet, a smaller claw foot tub fits in quite nicely. In fact, the bathroom feels even bigger because there's space around the tub to give the bathroom an airy feel. Designers say that the negative space provides more emphasis to  the tub as the "pièce de résistance."
3. Avoid heavy cast-iron bathtubs in apartments and condos. Choose instead acrylic and fiberglass tubs which are lightweight and better suited to buildings where floors may not be engineered to hold the heavy weight of cast iron. They are also generally cheaper but can emulate many other materials.
4. Consider putting your tub on an angle if you want to make a striking statement. Angled tubs do two things: First they demonstrate you are unconcerned with how much space your tub is taking in your bathroom. That, alone, is a great luxury. Two, they also create beautiful sight lines. They provide you with a beautiful view while soaking in your tub and a gorgeous view upon entering the bathroom.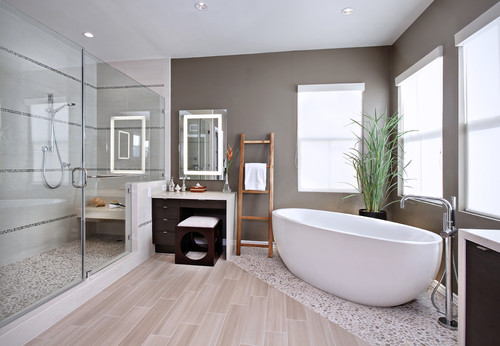 5. Consider a soaking tub if you have limited space. Compact soaking tubs are much deeper but smaller. Although you'll need the same amount of water to take a bath, you can squeeze one into a much smaller room.
6. If your tub comes undrilled and you don't want to disturb its pristine beauty, you might consider a floor-mounted faucet, as seen above in the angled tub. Floor-mounted faucets have a "cool" factor far and beyond traditional faucets mounted inside tubs.
A wall mounted faucet, as seen below, is another alternative.
7. Freestanding bathtubs are great for rooms with a view.  If you are lucky enough to have a bathroom overlooking a wooded forest, a beautiful beach, or a spectacular city view, a freestanding tub is the way to go. It invites users to soak, luxuriously, while taking in the surroundings and will provide your bathroom with a very special feel.
8. Go Artsy. If you have the space for a freestanding tub, go the extra mile to make your tub selection extra special. Pick out an unusual, dramatic shape or style for added oomph.
9. Consider a slipper tub in a traditional bathroom.
If you've got a traditional old home, perhaps a Victorian with chair rails, wainscoting and the rest, nothing can look more fitting than a freestanding tub with high sides, sometimes called a "slipper" tub. The high sides of the tub act as a comfortable headrest for extra long soaks. A large double slipper allows two people to bathe and sip champagne at the same time. What a treat on cold winter days. Special bonus points if your bathroom happens to include a fireplace!
What it boils down to is this: if you are lucky enough to have the space to consider a freestanding bath you should definitely seize the opportunity. Freestanding tubs offer a special chance to show off your own personality and artistic flare, whether you opt for streamlined and modern, a very traditional claw-footed tub, or a zen-inspired Japanese soaking tub. The design of your tub will set the tone of your bathroom, and can indeed serve as inspiration for the décor or other rooms in your home. And besides just the look, there's nothing more relaxing than taking the time to relax in a hot bath!
There's no happier color in the rainbow than orange. Orange represents sun and warmth. It feels vivacious, expansive and bold. It was a favorite color in the 70s, when it moved into American homes along with avocado green. But unlike avocado green, orange maintained some staying power, and it still goes strong today, particularly in modern kitchens where it just feels right. Orange kitchen islands have become a favorite way to bring orange into the home, because it's a way of doing it in a relatively small dose. It's a powerful accent that can immediately pull a room together. And there's something about orange that just seems to go well with food, too.
Don't believe us? Come take a look:
Above, an orange accent wall and a kitchen island painted a pumpkin orange lends character and spunk to a kitchen that might otherwise come off as sterile considering the white cabinets and glass tile. The vibrant orange island adds personality without ever feeling like too much.
Similarly, a slightly more muted orange serves as a backsplash and accent underneath a waterfall countertop. This time, the orange with a bit more gray comes off as smooth and sophisticated when paired with gray taupe and dark brown cabinets. Now that's a great way to do modern.
Again orange is paired with gray for a fresh feeling in a more traditional kitchen. What's delightful is that the orange is nicely balanced by bright pops of color in dishes and the rug.
A smart way to ensure that orange looks like a plan and not an afterthought is to tie it in with smaller accents of the same color. Above, the orange island looks smashing when the back wall and niches painted in the same striking shade.
Finally, above, a beautiful modern kitchen uses orange not only on the kitchen island but on upper cabinets too. It never feels like too much. So the moral of the story is simply this: don't be afraid to do orange. In an age of gray, taupe and beige, a bright, funky color can transform an otherwise boring space!