The kitchen has evolved. No longer simply a utilitarian space located in the far corner of the house, today the kitchen takes center stage, in design and in life. It's the place where we entertain, spend quality time with family and experiment with new culinary concoctions. We don't want to separate it from the rest of our home. We want to show it off!
To that end, the kitchen is being reconceived in ways that might have been considered unimaginable a decade or more ago. It's becoming a home for electronic gadgets, where we can dock our iPhones and iPads. It's a place for creative lighting that provides atmosphere and ambiance. It's become a space to customize, customize, customize. No more standard cabinetry. Let's take a look at the top trends for 2016.
1.) The kitchen continues to emerge from its shell.
By now, we must sound like a broken record. Everything's open! In a trend that still seems to be holding steady, despite the fact that it's been around for a while, it seems that most of us still want kitchens that communicate with the rest of the house, where we can prepare dinner while watching the kids, conversing with our partners, watching TV, and generally remaining part of the household fray.  Because this trend seems like it will be a keeper, designers are now designing kitchens to feel less "kitchen-y" — more streamlined, cleaner, with appliances often hidden away.  All indications are that in the future, the kitchen will continue to be integrated into living areas and many of the other top trends for 2016 piggyback off that fact.
2) Cabinetry is well-lit
It's not just about ceiling lights anymore. In the kitchen, cabinet lighting has become all-important. This ranges from LED strip lights that run underneath cabinets, lighting up the kitchen countertop to lights inside cabinets as well. Statement, pendant lights, are also part of the lighting mix, which includes a greater variety of light sources and types than ever before. Below, recessed lights, pendant lights under cabinetry and inside cabinetry combine to create a kitchen with huge flexibility and atmospheric possibilities.
And below here, an LED strip under cabinets highlights a beautiful texturized backsplash.
And below, another well-lit kitchen.
3) Sliding cabinet doors
We're all acquainted with the advantages of slide out cabinet shelves, but what about sliding cabinet doors? More and more kitchens are incorporating these types of doors, which have a number of advantages over traditional cabinets. For one, it eliminates the banging-head syndrome which occurs when you leave doors that swing out open and forget you've done so. Below, a sliding chalkboard panel allows you to decide what to reveal and what to hide.
Below, in this ski house kitchen, sliding doors allow for an open shelving look in some parts of the kitchen but hides clutter in other parts.
Here, sliding wood doors lend a rough-hewn industrial look.
And below, sliding glass doors allow overhead cabinetry to function as a display space for glassware.
4) Smart kitchens
Increasingly, kitchens are incorporating designated spots for smart devices. Kitchens now often include hidden charging stations and places to store devices like phones and tablets so that they are always operable, at hand and charged. In addition, more homes are incorporating "smart" appliances — refrigerators that can tell you when it's time to go shopping, and ovens that can be programmed to heat up when you decide.
5) Microwave drawers
People are turning to microwaves tucked under countertops to free up counterspace or the space above the stove. Advantages, according to those who have them, include the fact that you can more easily access hot dishes without risking of dropping or spilling them.
What are some other kitchen trends for 2016?
Streamlined kitchens with a modern twist
White and neutral gray cabinetry
A resurgence in Shaker style cabinets
Metal range hoods
Colored sinks
Mixing countertop materials
Architectural specialty faucets
Last year, Elle Décor held an online conversation asking this question: Is it time to leave Mid Century Modern behind? Needless to say, comments flooded in with one resounding response: NO WAY. It turns out that people no longer see Mid Century Modern design as a transitory trend. Rather, they see it as something of a lifestyle. Timeless. Classic. Flexible.
That's especially true in living and dining spaces, where Mid Century Modern sofas, ,  and create pared down, clean-lined, yet welcoming rooms that provide a neat backdrop to the ongoing drama of our lives. Mid Century Modern is simple enough and versatile enough to work with almost any furniture period.
Take, for instance, modern sofas like the by Kure, sold at , pictured above. It has clean lines that would look great in a glass-encased high-rise condo, but its neutral color and shape sit somewhere between modern and traditional. It could work just as easily in a craftsman bungalow. Similarly, the (below) at Rove Concepts would look just as good in an Eames Case Study House as a Victorian parlor. Let's face it, modern sofas have a versatility that Rococo French fainting couches don't.
Above, , at Rove, provides a classic feel to an airy, open interior. And check out the interior below, an example of how Mid Century Modern can mix effortlessly for an eclectic look. In the Upper West Side apartment, from Rove Concepts, mixes with more traditional furniture styles for a warm, vibrant feel.
When it comes to dining rooms, nothing could be more classic yet cutting edge as a modern dining table and modern dining chairs.  Check out the .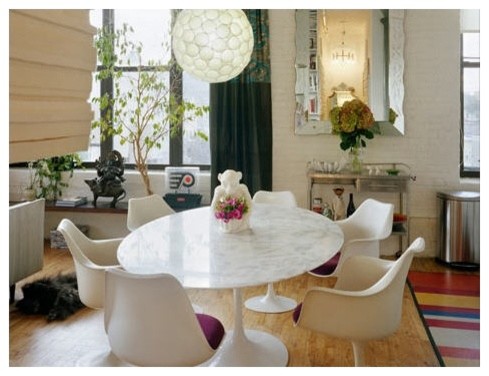 Here's yet another example: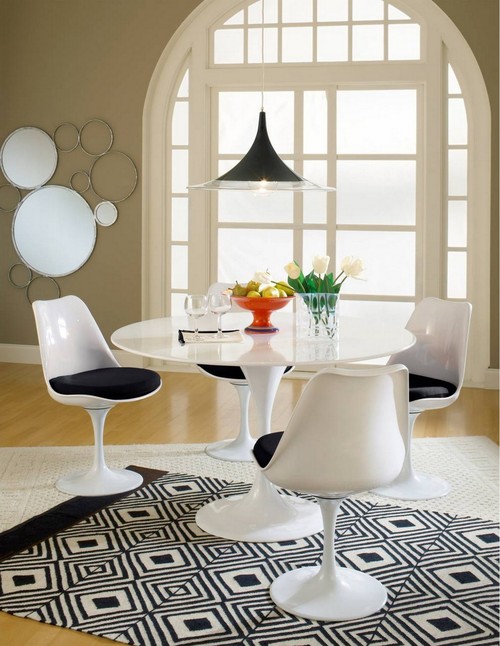 It seems that Mid Century Modern furniture, really is here to stay, no longer just a trend, but a fixture in American homes.
In a globalized world ruled by Facebook, Instagram and Snapchat, trends rip through the design world faster than you can click a mouse.  Thanks to global furniture retailers like Ikea and BoConcept, today, the way we live in Brussels is the way we live in Boston. As in all matters, there are advantages and disadvantages to the increasing globalization of design. On one hand, you can say that as we all begin to enjoy and have access to similar things and ways of being, our ability to appreciate and understand each other should grow. But there is also an argument to be made that our world is becoming increasingly homogenized. Everyone's house looks like everyone else's house.
Whatever you may happen to think, here are three global design trends that have taken the world by storm:
The Open Concept Home.
From Sydney to Shanghai, from Toronto to Turin, more and more new construction incorporates an open floor plan, in which a kitchen opens to a dining and/or living room. It's the way we want to live today, and is borne of the idea that we live much less formally than we used to. With men and women sharing equally in household chores, and with families dispensing with "help" who might have once been relegated to a far corner of the home, families are now wanting to share physical space in which they can cook with each other, talk to each other, and just hang out.
Above, a Massachusetts beach house incorporates the open concept floor plan. And below, so does an apartment in Munich, Germany.
And below, a Russian home looks much the same as the others in the United States and Germany:
And here, a country house in Spain:
2. Multi-functionality.
Maybe it's a result of an increased concern for sustainability and a desire to live more lightly on the earth. Or perhaps it's a result of burgeoning city populations around the world, meaning more of us are living in denser and smaller spaces. Or maybe it's a result of skyrocketing housing expenses, where every square meter counts. Or perhaps we're just getting smart. Whatever it is, it seems there has been a global move toward incorporating smart, multi-purpose furniture and design into our homes. Gone are the days when one single-purpose room might have sat unused the majority of the time.
For instance, below in Spain, PKMN Arquitectura has devised a clever way to help a home transition from open space to a closed-space layout. Rotating walls allow spaces to be used in multiple ways.
And in Vancouver, a home makes use of a convertible coffee table that allows a living room to stand in as a dining room when necessary.
In London, a living room in a studio apartment instantly transforms into a bedroom, thanks to a cleverly designed Murphy Bed.
Also in London, a sofa bed retains great style:
And in San Francisco,  a bathroom combines the toilet and bidet into one space-saving fixture.
3.Multi-generational living.
For years, this was the norm in many parts of the world. But it's only more recently that this trend has also made its way to places like the United States where once the nuclear family reigned supreme.
Below, a Minneapolis family room includes plenty of seating for young and old alike.
A kitchen with a table on casters allows for dining space to be rearranged easily to accommodate different needs:
Below, a Moscow in-law suite:
And an in-law "cottage" in Seattle, Washington:
Other international trends we can identify:
An embrace of pared-down, sleek furnishings as best categorized by the Mid Century modern craze.
More attention paid to lighting and lighting fixtures.