Design Dilemma: The Complex Appeal of a Simple Window Box
This is the time of year when many of us don our gardening gloves, anxious to get back to cultivating our roses or growing our tomatoes.  Those of us with a green thumb have thriving backyard gardens, but others of us struggle with getting anything to grow. Thankfully, there is one form of "gardening" available to all, regardless of skill level. In fact, this form of gardening requires very little effort at all, and very little time or money, and yet it has a dramatic effect on the look and feel of your home: behold the power of the window box.
A window box is a simple little flourish with plenty of benefits. Window boxes instantly boost the curb appeal of your home. They lend your home a sense of style and grace. They are easily changed with the seasons, and can be maintained even during the winter, when nothing will grow in your garden. If you are putting your home on the market, window boxes will impress potential buyers by making your home appear cared for and quaint. They will very likely help sell your home. If you are an apartment dweller, window boxes offer you a chance to indulge your urge to garden, even without a yard. In short, there is a lot to celebrate with a window box.
Just look at the home above. It's not for sale, but if it were, I would buy it. A long window box along the expanse of the window visible from the street instantly projects a feeling that this home has been well-maintained. The cascading flowers add color and interest to the look of the home, giving it a little pizazz. The box is a wooden one that is attached to the shingling on the home, but there's no need to get that involved.
The window box above is a simple wrought iron holder that can be bought at any hardware store to hook over the window frame. It's the simplest way to install a box in any window around your house.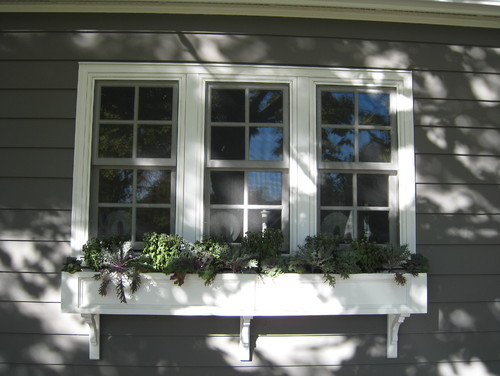 Although most of us want to plant flowers in our window boxes, the nice thing about boxes is that they are multi-seasonal. They can be used to plant greens in the fall and winter, when flowers aren't blooming. Above and below, you see two examples. One window box has been filled with greens and cabbages that can take the cooler temperatures of autumn. The other window box has taken on the role of a decorative vase, allowing a display area for holiday fir branches and Christmas decorations.
There's no reason to reserve window boxes for stately buildings. They can work their magic anywhere. Here, we see a garage with a window box, which instantly elevates the building from it's backyard status to something special.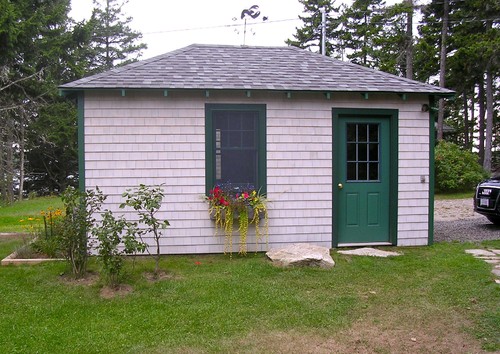 And there's no reason at all why window boxes can't also accommodate box shrubs or other types of evergreen shrubs, as you see below.
Finally, window boxes can work inside too. It's the best way to enjoy a little nature indoors.
Are you ready to jump in and plant a window box? Keep these tips in mind:
Remember the  sun. Knowing how much sun exposure your window box gets during the course of the day will dictate what kinds of plant you can use. Window boxes in full sun and partial sun will present more growing options for colorful annuals, perennials and succulents than those placed in partial to full shade.
Choose your plants accordingly. Once you know what kind of sun exposure you will plant for, select plants accordingly. Keep in mind the climate of where you live. Many window box gardeners opt for geraniums, as they are hardy and thrive in both warm and cool temps.
Aim for a variety of heights. If you want a really beautiful window box, choose tall plants mixed with plants that will spread out, mixed with plants that drape or cascade.
Don't forget maintenance. Annuals like impatiensand petunia work well for window boxes but need to be changed more often. Longer lasting perennials include geraniums, lavender and herbs. A small-scale evergreen, such as a dwarf boxwood or cypress, adds four-season interest to the planter, even if you swap out the flowering plants each season.