Design Dilemma: 5 Tips for Creating a Beautiful Space on a Budget
Sometimes, it can be a struggle to find the cash to decorate your home like the ones you see in all the design catalogs. It's especially  frustrating when you've got your eye on a George Nelson pretzel chair that costs hundreds of dollars, or a B & B Italia couch that costs thousands and you know you can only afford a Craig's List bargain.  One option is to obtain a home equity line of credit or you can choose to create a warm, aesthetically pleasing and unique home without having to spend a lot of money on expensive furnishings. Even so, you can create a warm, aesthetically pleasing and unique home without having to spend a lot of money on expensive furnishings. Keeping a few principles in mind you can transform any run of the mill space into a beautiful, polished, peaceful home that is a pleasure to live in. And you don't need to spend a cent!
1) Keep it clean and clutterfree. This may sound like an odd decorating tip but it is the foundation of every successful space. Clean and sparkling can make even the most modest places feel good to hang out in. And eliminating the clutter that tends to build up over time can make a space feel organized.
The Shaker style kitchen below is not super fancy. It features white subway tiles, tile flooring and simple white cabinetry. And yet, it feels chic and high-end, simply because it is clean and clutterfree.
2) Organize, organize, organize. A place for everything and everything in its place helps even the most modest place feel planned out. Work to optimize your room's flow and feeling by concentrating on creating layouts that allow for a flow of traffic, while also providing areas for conversation, study, entertainment, etc. Below, a well-thought out "study" in a hallway provides the perfect space to work on the computer, handle phone calls, etc.
3. Eliminate things. Sometimes, the key to a great space is not buying and adding things — it's subtracting! Take a second look at your space for objects that are unnecessary or ugly. If they don't have a purpose and you don't like the way they look, give them away! Enjoy how the room feels with all that extra space. The Japanese home below is a great example of this. The living room is essentially composed of a couch and dining table. The simplicity of it all allows the beauty of the textured walls to shine through.
4. Create your own art. There are few things that can elevate a home in style and personality, as art. If you can't afford to buy a piece, try creating your own abstract piece. The beauty of it all is you can switch out the art and try something new whenever you feel like it. Say you can't draw? The art in the photo below was created with paint chip samples!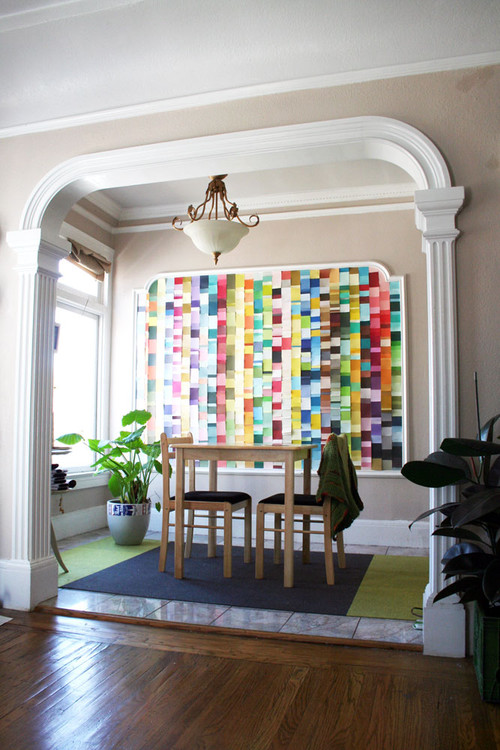 5. Enjoy the Process. Get over having a "finished" home. Embrace imperfection and enjoy the fun of keeping your eyes peeled for deals at flea markets, thrift stores, or for interesting castaways from friends. Your space will always be evolving, just as you are!