Design Dilemma: A Portable Spanish House
Earlier this month, we wrote about tiny homes. It turns out that tiny homes, often portable, are sweeping the globe. This version is slightly larger than many we saw earlier, but it's still small enough to edge into the tiny house territory. ÁBATON's Portable Home ÁPH80 project was developed as a dwelling ideal for 2 people, easily transported by road and ready to be placed almost anywhere. Take a look:
The interior is chic, modern and simple. Light oak gives the room a sense of light and warmth. A sliding glass door opens up the interior directly to the outdoors, expanding the space:
A view of the bedroom:
A closer look at the exterior. All doors and windows can be closed off by the exterior material so that the house can be wrapped up tight like a box:
Here's how the house can move around: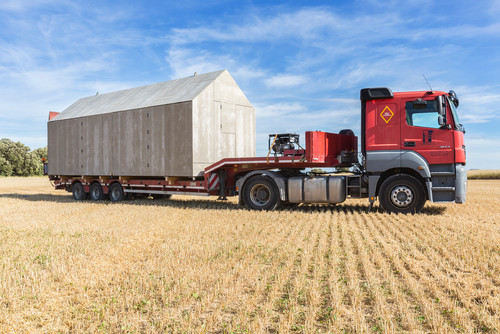 Modern, minimal, warm, sustainable — we love this home!