Design Dilemma: Cool Fireplaces to Keep You Warm
Question: What could be better than kicking up your feet near a cozy fireplace this winter? Answer: Absolutely nothing. Cold dark months filled with snow and frigid temperatures require a warm centerpiece for relaxing and entertaining. And just because a fireplace recalls cozy feelings of tradition doesn't mean a fireplace has to be traditional.
Check out the custom-made four-sided Acucraft gas fireplace, above. The best thing about a fire in a glass box is that it can sit in the middle of the room, allowing more people to gather around its warmth and beauty. Glass fireplaces give off radiant heat on all sides, which is a big plus in long narrow rooms where a fireplace on one end might not adequately heat a space. When it comes to glass-paned fireplaces, the amount of heat they radiate depends on whether they are made of single or dual pane glass. The look is clean, modern, and not at all fussy.
You'll find another custom option with a totally different feel in the gas fireplace below. Wood panels and stone create the surround. Inside the fireplace are stones for decorative interest. Bonus:  theycontinue to radiate heat after the fire has been extinguished. A gas fixture allows the fire to take a long narrow shape.
W
Why not go totally mod? The Italian Oggifocus Fireplace from Diligence International below looks best when a Lucio Fontana painting sits above! We especially like the minimal, curved wood mantle, that supplies just the right amount of emphasis, but in a very subtle way.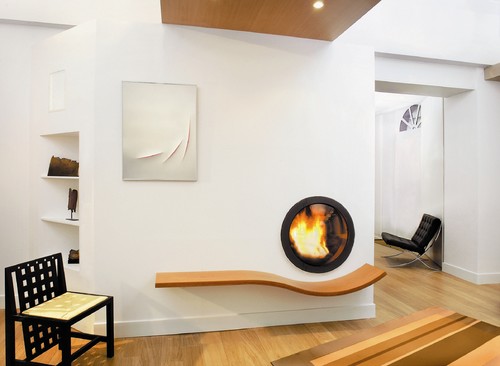 Got a small space? This simple Emifocus fireplace, also from Diligence International looks a little bit like a ship's porthole, or else a giant eyeball. The fireplace can be supplied with a visible flue or with the flue exiting behind. Very original!
In the age of the ubiquitous screen, some of us just don't want to pull ourselves away. Check out the Eurofocus fireplace below, that looks like a giant television screen. It can be placed centrally in a room or flat against a wall.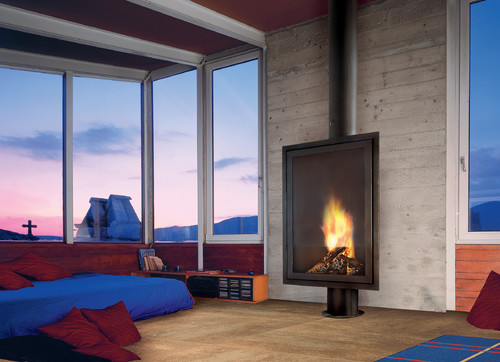 Although the 60s are over, suspended fireplaces still hold a warm place in our hearts. That's because they function as sculpture, right smack dab in the middle of a room. Check out the one below, also from Diligence International.
Sometimes what's on order is not so much a fireplace, as a stove. Stoves can generate quite a bit of heat, and they are much more flexible in terms of where they can be located. In the beach house below, a stove makes a sculptural statement and helps provide heat for both the living area and the entry way.
The vacation house below also boasts a stove — especially cool because the stovepipe echoes the pillars found throughout the room. The result is that the stove looks like it was meant to be, not just an afterthought.
And what do you do if you have a tall narrow space, but you're hankering for a fireplace? Witness the Vertivision fireplace below that looks almost more like a traditional window than a fireplace.


So if you're thinking about adding or upgrading your fireplace this winter, know that you have a slew of great options. Fireplace doesn't have to take the traditional shape. In fact, it can be a lot more fun when it's a little different!