Design Dilemma: Get Rid of that Hallway!
More often than not, a hallway is wasted space. Okay, so not all hallways are bad. Some hallways can provide a needed transition between, let's say a public area and private space. A hallway can also make for drama, particularly in an entry hall leading into a living or entertaining area. But let's face it, in today's informal home, replete with an open concept floor plan and a concern for energy usage, a hallway just feels wrong. It's a space that calls to be heated and cooled, it must also be cleaned, and yet, it supplies relatively little in return for all the work. So more and more of us are looking for ruthlessly efficient floor plans with as little hallway eating up our precious square footage as possible.
Something like this: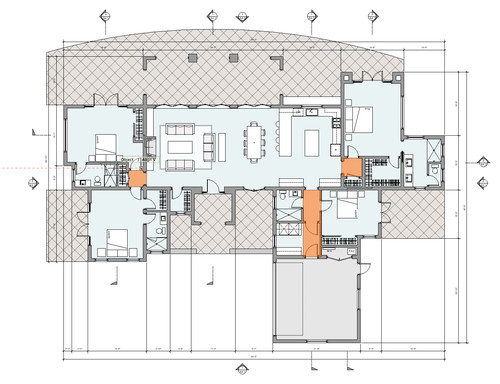 Notice how little of the floorplan is given over to space-hogging hallways. The overall space is 2,588 square feet but only 115 square feet, or 4 percent of the overall square footage, is used for circulation. That's superefficient and means that these owners are spending dramatically less money to build wasted space than some others might.
So what do you do if you own an older home with lots of hallways? You have two options:
1) Knock down walls.
2) Turn your hallways into functional spaces.
Option one: Knocking down a wall. Knocking down walls and opening up spaces has become extremely popular these days, and with good reason. Getting rid of a wall can dramatically change a layout, allowing for better circulation, more light and air, and a sense of communication between formerly separated areas.
Check out the room below. The old layout included a long hallway and a separate living room and dining room, with a stairway at the end of the hall. The owners knocked down a couple of walls, allowing the living and dining rooms to communicate with each other as one large open space. The hallway and stairway gains light and a feeling of spaciousness that would have been impossible with a closed off hall. The look is far more modern than the old layout.
Option two: Giving a function to your hallway.
Knocking down a wall can get expensive, especially if the wall you want to get rid of is load-bearing. So enter option number two: make use of that hallway! The best way to do this, is to create some sort of useful function for space that would otherwise be used purely for circulation. This could mean all sorts of things like…
A library…
A gallery…
Or a storage space…
The space above, by the way, is perfect for storing shoes.
So what it all boils down to is this: if you've got a hallway that you are beginning to resent, feel free to get rid of it. And if you keep it, at least put it to work!