Design Dilemma: How to Hire a Contractor and Not Regret It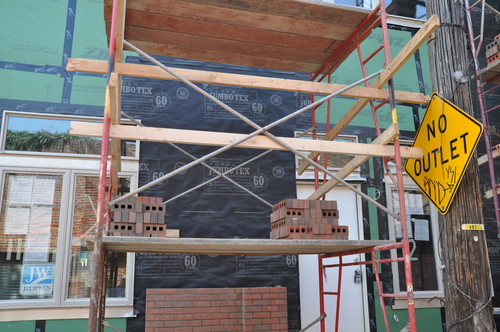 One of the scariest things about renovating any space is not what lurks behind those walls (although that can make us pretty nervous, too!) but rather, managing to find a qualified, reliable contractor who can knock those walls down without wreaking havoc.  How do you find a person you can trust? How can you know if the bids you get for the work are reasonable? How can you know if your contractor is really right to handle this kind of work?
Well, it all depends on doing your homework, right from the start. To help get your started, here is our advice.
1). Compile recommendations. Talk to friends, family, neighbors, co-workers, real estate agents, and, of course,  your architect, about any contractors they may have used in the past that they have liked. Make sure the job the contractor did for them is roughly similar to the work you need to have done. It's the tried and true way, pre-Angie's List, but it works! That being said, the internet can also be a valuable source of information.  Check out sites like Angie's List and Yelp to read up on a company.
2). Check on licenses. Anyone you're thinking of using should hold a license with the state license board. Ask to see the contractor's pocket license, picture I.D. and certificate of insurance. One reason insurance is important is that should a worker be hurt on the job site, a certificate of insurance means that the contractor can take care of the matter. If a contractor is uninsured, you may have to! In addition, check with the Better Business Bureau to see if a contractor has had complaints filed. If so, you might want to steer clear.
3). Visit a few of the contractor's projects. If you can see it in person, it's all the better. One smart idea is to check out a job that was recently completed, one that's under construction and one completed five to 10 years ago. By seeing projects in all phases of construction you will be able to see how a contractor works and how their work stands up to time. If you can't visit a site personally, at least ask for photos of projects similar in size and scope to yours. Talk with the owners of those projects to get an idea of how the job was done.
4). Check references. Ask for several and actually follow-up on calling them all. Employers do it for anyone they plan on hiring, and so should you. You'll be asking about the quality of the craftsmanship, of course, but you'll also want to know if the contractor was easy to deal with and communicate with, if he/she completed the job on schedule and within budget, whether there were any extra costs or surprises.
5.) Get several bids. Even if there is one contractor that you really intend to go with, it's still worth your while to ask for project bids from others, as a point of comparison. It is a good way to know if you're being charged a reasonable sum for the work, and it will allow you to compare the services that one contractor provides against another. It will also help you to learn more about a job, as it is likely that one contractor may offer advice or an approach to the work that needs to be done that differs from another.
6.) Before you sign a contract, review it.  Take your time on this and do not rush. You should not sign any contract until your permits have been approved and all costs have been finalized. Also, allow 5 to 8 percent of your total budget for unexpected costs, because there always are some.
Once you've found the right person, you should know that the success of your project also depends on how well you communicate with your contractor.  Before work begins, plan on a meeting in which you run through important aspects of how the job will get done. You should discuss:
The contractor's working hours.
Where to park and where and how to leave the trash.
Access to the site. Will you give your contractor a key or reset a security code to allow your contractor access to a home?
Site and landscape protection. Talk to your contractor about how he or she plans to protect existing plants or other features.
Location of utility shutoffs, as well as information about any utilities that can't be shut off.
Household pets and help. The contractors should know what animals you have, where you intend to keep them, and who may be on the job site at the time they are doing work.
How you will continue communication during the work. Arrange to confer regularly as work proceeds, either onsite, through email, or phone, so you can keep track of how work is going.
Hiring a contractor doesn't always have to be a terrifying process. With a little care and deliberation, you're sure to find the right person. Here's wishing you good luck in finding that reliable, speedy, qualified and budget-friendly contractor.