Design Dilemma: Saving on a Kitchen Remodel
There's one room in the house that seems to get more remodeling attention than any other. And that's the kitchen, of course.  Should we change the cabinets? Replace the countertop? Put in a new backsplash? Retile the floor? It's the subject of never ending rumination, speculation and dreaming. Problem is, kitchen remodels cost a lot of money. The national average for a major upscale kitchen remodel is about $113,097, according to one report. A mid-range professional, top-to-bottom kitchen averages almost $57,000. That's a lot of dough for most of us. And if you're considering an uber-luxurious kitchen with top-notch finishes, you're looking at much, much more. In a high-priced market, you can drop between $200,000 and $600,000 on a luxury kitchen.
Okay, so that's how high things can go. Very few of us, however, can afford prices like these. The reality for many of us would be closer to about $25,000, which is what the average minor kitchen remodel in the U.S. adds up to.
So let's say you want to keep your remodel at $25,000 or even far below that. Can it be done?
We say, yes, if you follow a few rules:
1) Look for ways to save on cabinetry. For one, you can use ready-to-assemble cabinets. You'll save yourself a bundle, since cabinets are the biggest budget buster in a kitchen remodel. Custom cabinets, depending on the materials you use and the size of your kitchen, can cost anywhere between $10-$60,000. But off-the-rack cabinets, particularly in-stock ready to assemble cabinets of the sort you might find at Ikea or a big box hardware store, might cost only a few thousand. Below, see an example of a kitchen remodel with ready-to-assemble cabinets.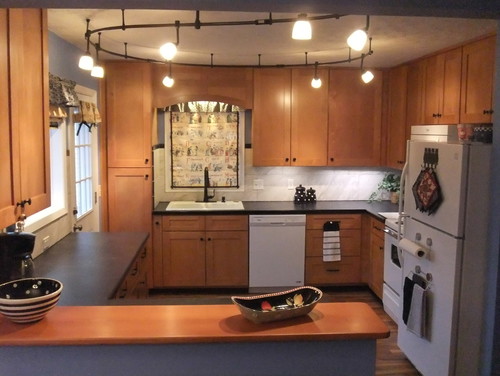 You can also save on new cabinetry by simply re-surfacing your existing cabinets, or repainting them. The cheapest option is to repaint, especially if your cabinets are of good quality and you like the style and configuration of your cabinetry. Resurfacing is a good option, but not always much cheaper than buying a whole set of ready-to-assemble. It can run in the $5-$15,000 range, depending on the size of your kitchen. Finally, you might consider using open shelving as a way to slash your cabinetry costs.
If you are able to keep your cabinetry budget under control, you have an excellent chance of keeping your remodel within budget.
2) Keep your existing configuration. What really boosts costs with any kitchen remodel is moving around plumbing lines and electrical outlets to accommodate a move of appliances and sinks. But if everything stays pretty much where it is, things get much simpler.
One popular remodeling act these days is knocking down a wall to open up a closed kitchen to a dining room or living room. This can make a dramatic difference in the look and feel of your kitchen, but it comes at a cost. Especially if you have to put in supporting beams to take the place of the old wall, or if there happen to be pipes or electricity running through the wall. One way to lower your price — create a pass-through or cut-out rather than knocking down the entire wall.
3) Consider less-expensive countertop options. Yes, granite has been popular in recent years, but now there are tons of good-looking materials to choose from, some of which are considerably cheaper than granite — including tile, concrete and recycled materials. Laminate countertops are also much improved in style options from the days of yore. The kitchen below, for example, looks like it features high-end Carrera marble. Actually, it's Formica!
How else can you save money?
Opt for pendant lamps or track lighting instead of recessed lighting. 
Consider a low-cost option for a backsplash. A washable wallpaper could be the way to go if you can't afford a backsplash right away. Otherwise, simple white subway tiles are always a good-looking and affordable option.
Buy an off-the-rack island. An island from Ikea, or even just an old work table can work as an island at a much reduced cost.
Tackle your project in stages. Maybe this year it's the floor and cabinets. Next year, you'll replace the appliances and backsplash. If you do your work in stages, be sure to plan well so that the work proceeds in the right order.
Forego luxury brands. Yes, Viking stoves are nice, but fancy and/or industrial quality appliances can blow your budget. Look for reliable and stylish workhorses when it's time to replace appliances.