Design Dilemma: The Portable Apartment
People who rent apartments have a major problem: they can't remodel. While this can be freeing, it can also mean putting up with bad layouts, lack of storage, dim rooms, and an assortment of other issues which can never be addressed. Unless, of course, you are Panagiotis Chatzitsakyris and Stelina Tsifti, principals of .27 Architects.  When faced with life lived in a bland, uninspiring rental, the couple invented their own architectural detail — all portable. They cleverly designed furniture which appears to be built-in, but which is actually easily dismantled when it's time to move.
Take a look:
This 1100 square foot apartment is located in Thessaloniki Greece. The modular living room was designed to keep the apartment feeling airy and open.  A "built-in" unit consists of a new "floor" of Iroko engineered wood built 5 inches above the existing marble floor. Dips and rises in the unit allow for different functions — sitting, walking or lying down. Underneath, additional storage holds lighting, speakers, a TV projector and more.
Look closely at this photo: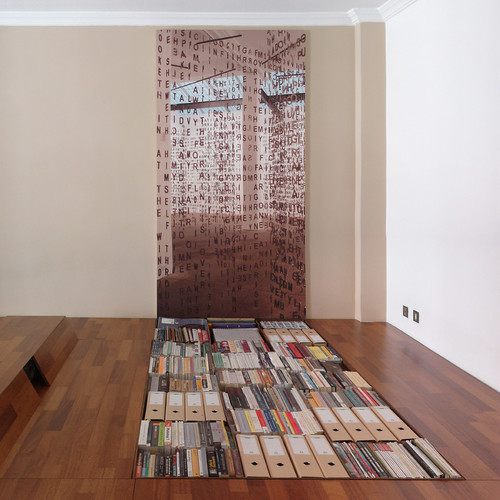 Notice anything? That's right. A bookcase is actually embedded in the floor. The embedded bookcase keeps the living room free of vertical storage.  In turn, this allows the space to function as a movie room. Look at the first photo in this post and you'll see a projector hanging from the ceiling.
Here's what the apartment looks like when the projector is in use:
Here's the dining area: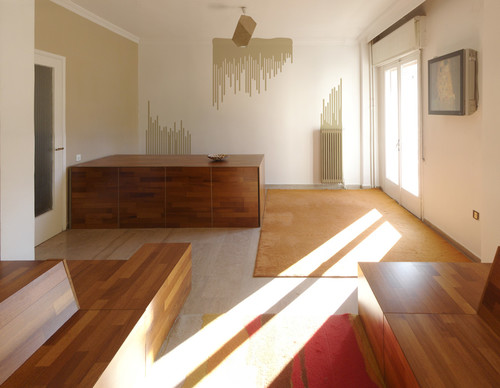 Doesn't look like a dining room, does it? That's because the dining chairs have been designed to interlock around the table, forming a single wooden box. The couple cleverly disguised an unsightly wall radiator by painting a wall graphic.
In the bedroom, the couple solved a storage problem and their desire for a four-poster bed by creating a custom-designed bed that has the feel of a four-poster but that has storage space up to, accessible by a manual lift.
In the kitchen, the couple added a custom-made oriented strand board countertop and dining table. Orange drapes cover a storage space.
This clever space just goes to show how a rented apartment need not mean an unpersonalized, unoriginal space. Get clever with portable "built-ins" and the possibilities are endless!