Design Dilemma: Trailer at the Beach
Want a beach house but you can't afford one? Check out how one inventive soul solved this dilemma. Wanting to rent a home at the Jersey Shore, one resourceful woman realized she couldn't afford the $2500 a week it would take to rent a house for the season in the area. So instead, she bought a 1998 28 foot Wilderness trailer, spending $5,000 to buy it. She spent another $5,000 to renovate, coming out ahead. Now she has a vacation house she can use all summer long at any time, for the same amount that it might have cost to rent a beach house for just one month!
Here's the very typical before: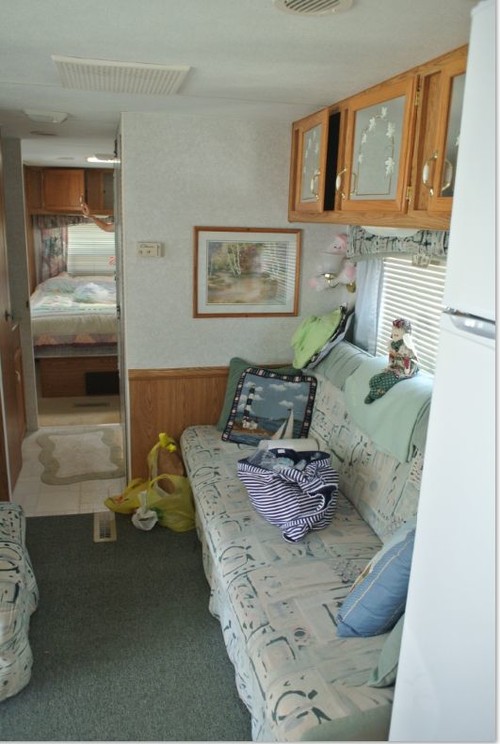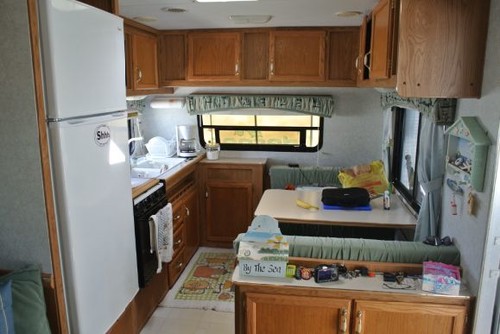 Chintz, green carpet and light oak is pretty typical to many trailers. And here's the after. The owner says she was going for bright and kitschy:
The owner removed the carpeting after a flood ruined it. But it was no great loss! She replaced it with vinyl flooring that looks like wood. Baskets under the bed provide extra storage. She removed the cabinet doors over the bed and painted the framing an electric cobalt blue. Since the original sofa did not excite her, she opted to keep it pulled out as a bed, which she covered in an IKEA duvet. It's much more inviting to hang out on.
Here's a glimpse of the kitchen:
\
She painted all the old oak a light gray. To open up the space, the owner removed one of the banquettes and covered the remaining one in an old needlepoint cover. The backsplash is penny cork tile covered in polyurethane. She replaced the old hardware with polished nickel and added a valance. Getting rid of the extra banquette and replacing it with a rattan chair gives the trailer less of a "trailer" feel and more of a "cottagey" feel.
What's really special about this renovation is the improvised patio, which is 400 square feet and the true heart of the home:
The porch consists of a pad of cracked clay. The owner covered that pad, which tends to get sandy with lumber painted cobalt blue, which is bolted over the pad. Each season, she brings out the lumber and constructs the porch, which, with a futon and chairs, has become a cozy haunt.
What this project proves is that if you can't afford a beach house, you have an alternative!