Design Trend: The Benefits of Glass Countertops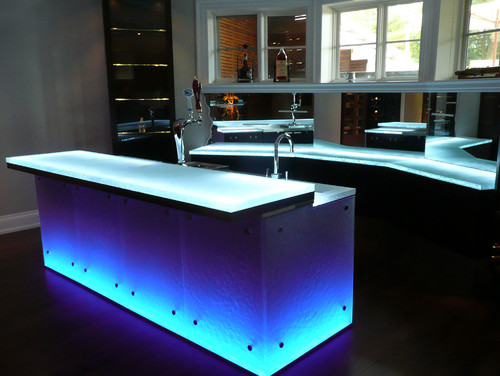 It seems that everyone has been obsessed with granite countertops in the last few years, but there's another countertop surface that deserves some attention for both its beauty and durability. We're talking glass!
Although we're used to thinking of glass as something delicate and fragile, it turns out that glass, when used as a countertop material, can be surprisingly resilient and far more practical than you might imagine. And there are some other benefits as well.
1. Glass countertops come in a surprising array of colors and textures.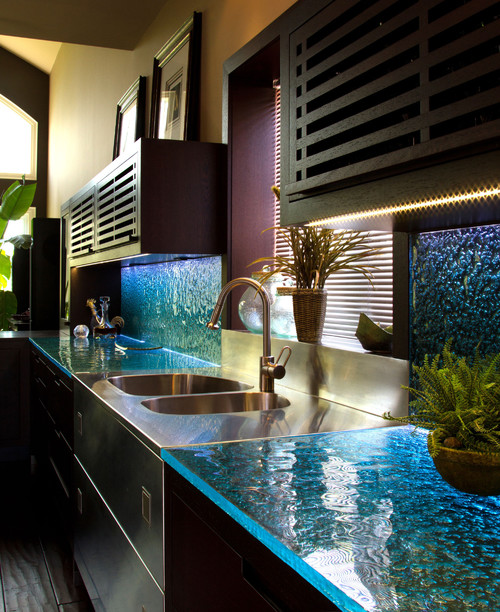 There 's no limit when it comes to color scheme or application.  You can opt for clear glass, textured glass, colored glass in transparent, translucent, and opaque varieties. The blue textured look of the countertop above, by CBD Glass Studios looks just as if you were looking to the bottom of a swimming pool, with the added advantage that the textured finish makes dust, fingerprints and small scratches nearly invisible.
You can also create a dramatic effect by using lighting, as seen in the countertop below.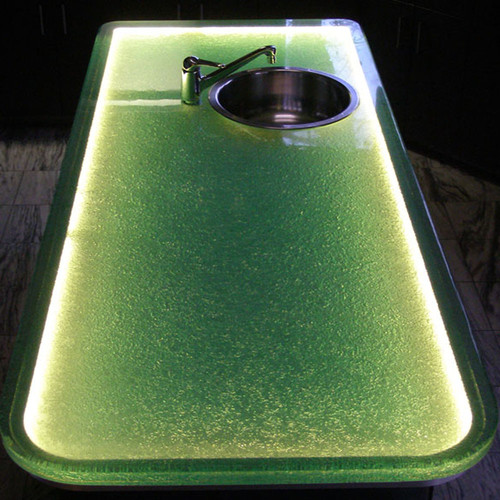 2. They are very easy to clean and completely non-porous.
In the kitchen, understandably, cooks are always concerned about germs and bacteria. The great thing about glass is that it's a breeze to keep clean, and thus the perfect choice for chefs looking to keep a spic and span kitchen.
3. Glass countertops can take the heat.
Although the use of hotplates is recommended, glass is naturally heat resistant so hot cookware can be placed on its surface without the kind of damage that could occur on many other types of surfaces.
4. The edges can be curved or contoured.
You are not limited in terms of shape or form with glass. Not only can edges be contoured in any way you like, but the glass can be designed into organic forms, as in the island above, also by CBD Glass Studios.
5. It can open up a room, providing an airy feel that reflects light.
Glass countertops bounce light around the room but are transparent. The combination of these two properties gives rooms an open, airy, modern feel that can even make a space feel larger.
6. It's a high end look.
Let's face it, granite has become so ubiquitous it's lost its cachet. Glass, on the other hand, is still very uncommon in most kitchens. When you see it, it automatically suggests a custom kitchen with a unique personality.
7. It's recyclable.
And here's an important advantage in our book. Glass is not a synthetic material and it is not using a limited resource, like marble or stone. It can be recycled again and again to create even more beautiful glass countertops.
Like any surface, glass does require some care. On slick, untextured glass, dirt, dust and debris will be visible, as will waterspots. Some acidic substances and corrode the glass, and of course, glass can be scratched, chipped or broken under pressure. Still, the same is true of many stones. All in all, glass is a unique countertop material with many more advantages than disadvantages for the discriminating homeowner and definitely worth considering for your next kitchen remodel.