Design Dilemma: Painterly Rugs Are A New Trend Underfoot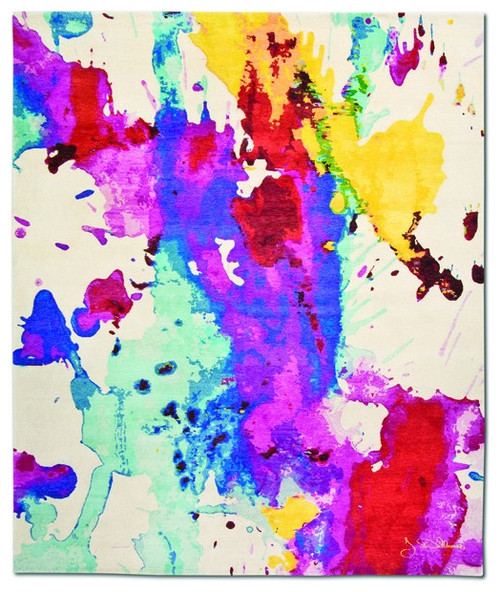 There's a trend underfoot, quite literally, for 2015. "Painterly" rugs, which look like they might have been splashed on a canvas by Monet, Pollock or Picasso, are all the rage. What does painterly look like? Take a look:
The rugs both above and below are Marc Phillips gems. The reason they look like paintings is that they were actually created by painters. The Marc Phillips Artistry Edition rugs, for example, were created by Jo-Anne Preston, a painter, calligrapher and carpet designer holding a B.A. and an M.A. in Fine Arts and Art History. Marc Phillips regularly collaborates with well-known artists such as Shepard Fairey, RETNA   and Jamie Bush. The rug below is Splash Supreme 3 in wool and silk in All Natural.
Along the same painterly lines are Christopher Wool's New Linen 8 hand-knotted rug in silk which resembles a charcoal drawing or a print rather than a rug:

And below, another rug by This Moment is abstract and deliciously vivid. It's hand-knotted of Tibetan wool and Chinese silk by artist Amy Helfand.
Finally, there's the River Basin hand-knotted rug in silk by Organic Looms.
Are you attracted by the loose, free-wheeling brush-stroke feeling of many of these rugs? How can you make them work in your own home?
Let the rug be the focal point. When you've got a beautifully vivid rug, there's no point in piling on too many other patterns in other textiles in the room. Let the rug hold all the attention by keeping curtains, upholstery and pillows in solid colors that complement the rug.
If you do add pattern in other textiles, vary the scale. If you have a rug with a very wide and loose pattern, choose pillows and upholstery that are smaller in scale.
Feel free to pare down. Maybe you can get away with a little less furniture, just so you can better behold the beauty of your rug.
Keep your artwork in mind. Your rug should complement your artwork, not fight with it.