Design Trend: Mid Century Modern is Here to Stay
Last year, Elle Décor held an online conversation asking this question: Is it time to leave Mid Century Modern behind? Needless to say, comments flooded in with one resounding response: NO WAY. It turns out that people no longer see Mid Century Modern design as a transitory trend. Rather, they see it as something of a lifestyle. Timeless. Classic. Flexible.
That's especially true in living and dining spaces, where Mid Century Modern sofas, ,  and create pared down, clean-lined, yet welcoming rooms that provide a neat backdrop to the ongoing drama of our lives. Mid Century Modern is simple enough and versatile enough to work with almost any furniture period.
Take, for instance, modern sofas like the by Kure, sold at , pictured above. It has clean lines that would look great in a glass-encased high-rise condo, but its neutral color and shape sit somewhere between modern and traditional. It could work just as easily in a craftsman bungalow. Similarly, the (below) at Rove Concepts would look just as good in an Eames Case Study House as a Victorian parlor. Let's face it, modern sofas have a versatility that Rococo French fainting couches don't.
Above, , at Rove, provides a classic feel to an airy, open interior. And check out the interior below, an example of how Mid Century Modern can mix effortlessly for an eclectic look. In the Upper West Side apartment, from Rove Concepts, mixes with more traditional furniture styles for a warm, vibrant feel.
When it comes to dining rooms, nothing could be more classic yet cutting edge as a modern dining table and modern dining chairs.  Check out the .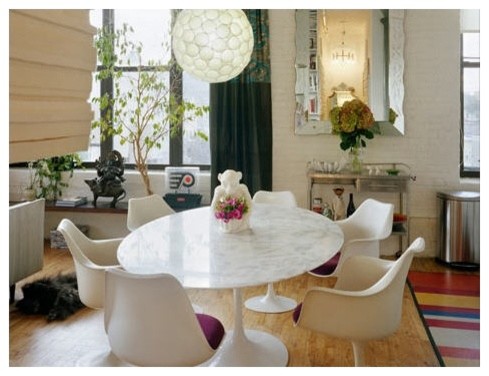 Here's yet another example: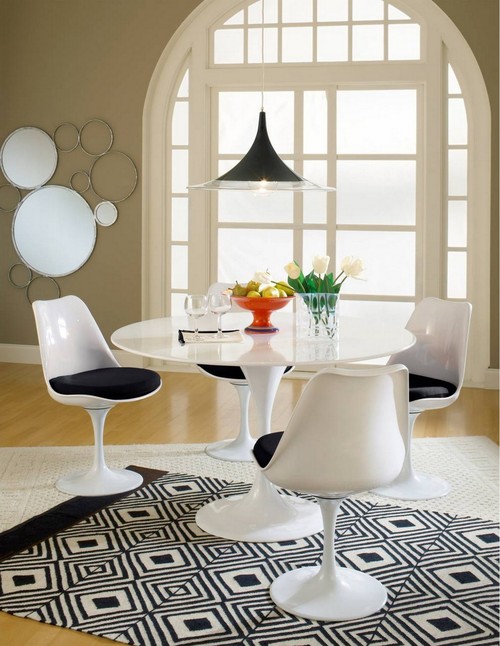 It seems that Mid Century Modern furniture, really is here to stay, no longer just a trend, but a fixture in American homes.