Design Dilemma: Going for the Maximum
Minimalist interiors always seem to be in vogue — especially in these times marked by so much excess everywhere else.  But what about maximalism? Is there a place in our already cluttered lives for interiors that are filled to the brim with furnishings, textiles, colors? Or have we all just had enough?
Though we certainly understand the urge for purity, serenity, and uncluttered spaces, we feel there's definitely a place in our world for a different kind of aesthetic.  After all, quiet, neutral, unadorned interiors can feel serene but also severe. They can transmit the idea of spirituality but can also seem antiseptic. Maximalism, on the other hand, revels in quirky individualism. It can go glam and sophisticated or playful and fun.
Take a look: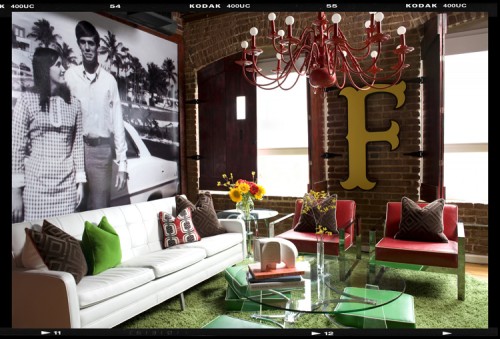 The two interiors above are more on the fun end of the maximalist spectrum. And while you might imagine that maximalism means "clutter," the two rooms above prove otherwise. What makes these rooms maximal? Think layered patterns, colors and texture. In the living room above, the shag rug, patterned pillows, red chandelier, red chairs, giant photo mural and big "F" mean there's a lot going on, but in a way that feels completely natural. We can envision Mary Tyler Moore settling down to a nice chat with Rhoda in this room. Same with the first photo, in which a spotted cowhide rug provides texture, throw pillows provide color and pattern, and tree wall paper provides more color and interest. Oh yeah, and the cat's a nice touch too.
Below check out a room on the other end of the spectrum: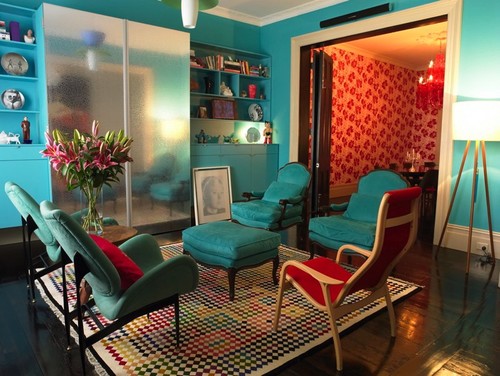 The room above is all about sophisticated polish. It's less youthful and more pulled together than the top two photos. And yet, it still explodes with individualism, fun and verve. There's something about the bright turquoise walls, the turquoise furniture, the bright red contrasting wallpaper in the next room, which speak to the willingness to take risks and indulge in full-blown color.  What's the key to making maximalism work?
1) Take risks. Maximalism is the time when you don't have to worry about everything matching, or staying streamlined and uncluttered. With maximalism, it's fine to use bold color on walls or on furniture. Adding wallpaper and textured rugs and textiles is a must.
In the room above, white walls provide the backdrop for a whole lot of risk-taking. Combining a patterned sofa with floral patterned pillows was already a big risk. But adding the zebra striped floor rug took a whole other level of daring.
2) Layer. We've said it before and we'll say it again. The maximal part of maximalism is piling one thing on top of another. So though you might start with a wallpaper base on the wall, there's no reason to necessarily limit your color and pattern there. You could go for throw pillows or even furniture that is brightly colored and patterned. You can add more interest with colorful art.  It's the layered effect which brings the whole look together.
In the maximalist interior above, brightly colored walls are the backdrop to bright and intricately-patterned artwork. Those patterns and colors are picked up again in throw pillows with sit atop a crushed velvet sofa, which provides both color and texture. Patterned wallpaper in the next room picks up the patterned theme and provides yet another layer of interest.
3. Maintain balance by seeking a unifying element. None of the interiors pictured holds back on color and pattern. They feel whimsical, somewhat bohemian, certainly lush. But there is a unifying element in each of the interiors which helps make disparate colors and patterns work. Sometimes the unifying element is color (as in the turquoise room with the turquoise chairs), sometimes it's pattern, as with the last two interiors pictured, and sometimes, it's by throwing in a neutral somewhere to help balance out the riot of color everywhere else, as in the first, second and fourth photos.
In the two photos above (the second is a photo of Sting's Manhattan apartment), lushness is borne of plenty of pattern and color. There's a boho vibe going here that is definitely sensual and joyful. In the photo courtesy of Elle Decor, the neutral wall color provides a unifying element. In Sting's digs, it's the kilim on the floor and the kilim-covered couches and pillows that work exquisitely well together.
4. Eliminate real clutter. Maximalism is about color and texture and fun, but it's not about heaps of papers and magazines on every surface, or countertops piled with envelopes and other objects. Hoarding is not maximalism. When you've got so much else going on, be sure to keep the clutter in check to make your decorating style feel intentional rather than a mish-mash of junk.
5. Have fun. If you're going maximal, don't take yourself too seriously and be willing to experiment. All that fun and joy is sure to show!