Design Dilemma: Making Moody Dark Walls Work
Have you been thinking about painting your walls a dark dramatic color, but you're hesitating, because you're scared? We can relate. We've all had it drummed into our heads over the years that light paint colors can make a room feel bright, expansive and cheery. Dark walls, on the other hand, are said to make a room feel small, dark, and depressing. But is it always so? Take a look below and tell us what you think.
Pretty cool. And this:
Now tell the truth — do any of these rooms feel dark, dreary or depressing to you?
The above photos are proof that dark walls CAN work. It's just a matter of thinking carefully about how you'll use a dark color in your space. Here are a few tips to help you make a dark wall work for you.
1) Evaluate the space. Dark walls can work well in rooms with high ceilings and tons of natural light. In such circumstances, a dark wall comes off as dramatic and moody, rather than cavelike and depressing. For example:
Beautiful, huh? It's hard to go wrong when high ceilings and light give your room some wonderful bones that are only highlighted with dark paint. If your space is very dark with low ceilings, you might want to think twice about using a dark color throughout the entire room. On the other hand, there are no fast rules. Sometimes, a dark color in a small room with low natural light can actually enhance the cozy factor and expand the space.
Below is an example of a small room that uses a dark color to great effect:
Dark paint colors can work particularly well in bedrooms, since they are principally used at night, and dark colors can accentuate that sensual, romantic feel.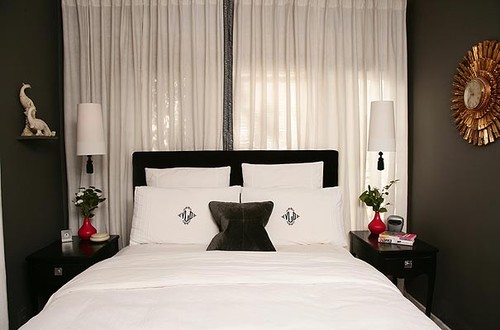 And this: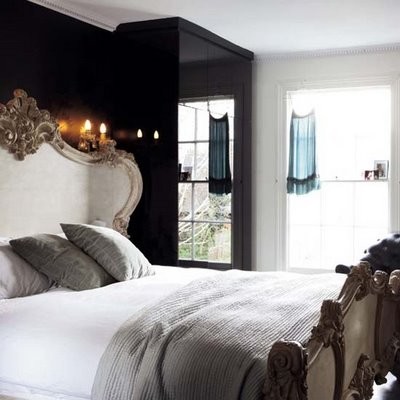 2) If you're uncertain, try an accent wall. You'll notice that many of the examples above use a dark color, but only on one wall. This can be an excellent way of creating the drama you want, without overwhelming a room in funereal black. The bedroom below is a great example:
If you decide to paint a dark accent wall, think carefully about which wall you want to highlight. Usually, you'll want to highlight a wall that holds an architectural detail, such as a fireplace. In a bedroom, you would naturally highlight the wall with the bed, so that the dark color almost acts as an extension of the headboard. In a living room, you might highlight the wall with the couch, as the accent wall will help define the conversation area.  In a hallway, you might choose to highlight a wall with lots of artwork as the dark color will act an arresting frame.
3) Use contrast. Something else you'll notice in many of the rooms above is that a dark wall is balanced by other lighter elements in a room. In a bedroom, this often means white linens, but balance can also be achieved with contrasting artwork, lighter color floors or furnishings and carpets.  Pops of bright color, like in the apple green lamps in the photo above, can also help to lighten the feel.

4) Don't be afraid to experiment. Lighting, ceiling height, room function, artificial lighting, and furnishings will all play a role in how well your dark wall will work. Don't be afraid to experiment. It can sometimes be hard to know exactly what affect a dark wall color will have in your room, and sometimes, you can only take the plunge and see for yourself. But hey, if it doesn't work, don't forget that nothing can be changed more easily than paint!