Design Dilemma: Staying Within a Renovation Budget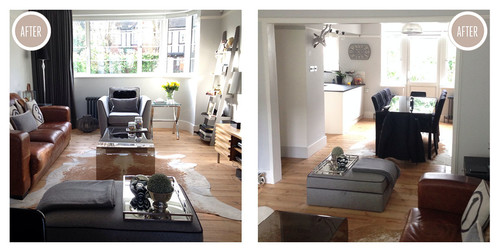 Who among us has ever initiated a home renovation and stayed within budget?
Do we hear silence?
In fact, no one ever finishes up a home construction project without spending a few (thousand) dollars more than anticipated. There always seems to be some unforeseen circumstance that propels a project budget into the stratosphere. So the question is, how can you take a project from this: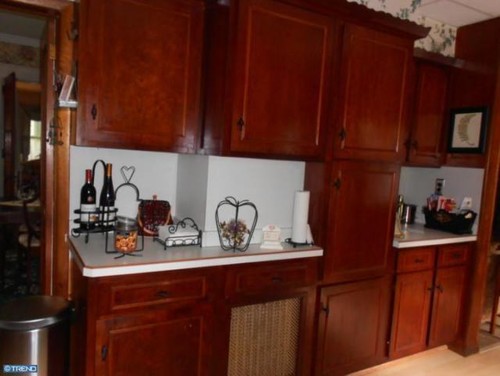 to this:
And still keep everything affordable?
1) Research to find your number. How much you will spend is dependent on a variety of factors — including what you feel comfortable spending and how much money you actually have in the bank! But when you are thinking about this number, you should also be factoring in where your home is located, whether the renovation you have planned is in keeping with the character of the home and neighborhood, and how much your renovation will cost in relation to the total value of your home.  If you want to get really "scientific" about how much to spend, keep this tip in mind, American home appraisers say the kitchen accounts for 10% to 15% of the property value of your home; bathrooms, 5% to 10%; half-baths, 5%, and a finished basement or attic, 10% to 15%. To figure out what's a reasonable sum to spend,  multiply that percentage by your property value. So if you're planning, say, a major kitchen renovation on a $400,000 home, you wouldn't want to spend more than $60,000.
2)  Once you have your number, subtract 20 percent to determine your official budget. So if you anticipate that your kitchen remodel will cost $60,000, make your official budget $48,000. Collect bids from contractors, confer with designers and select finishings accordingly, keeping in mind that you plan on doing the project for $48K. Your little secret is that you know you can max out at $60k. With a padding of 20 percent, you can breathe easy when, inevitably, costs amount to more than you expected, but you'll be unlikely to exceed your bottom line budget.
3) Share your official budget (but not your secret budget) with everyone. Be sure that designers and  contractors know that you have no more than $48K to spend on your project. Letting them know your official budget (but not your secret one) will give contractors the opportunity to work with you to get the most bang for your buck.
4) Limit major construction. You can significantly reduce costs by minimizing changes to the footprint. Any wall you don't move or remove will save $3,000 to $5,000. Ask your contractor if it's possible to avoid stripping open the walls and ceilings. That could save you another $2,000 to $5,000, even after workers make some temporary holes to snake in new wiring and pipes. Similarly, putting new bathroom or kitchen plumbing fixtures and appliances in the same spot as the old ones could slash your project cost by $2,000 to $3,000.
5) Do it yourself — at least the easy stuff.
While there is a lot about a renovation project that may be beyond your skill set, there are certain things you may be able to do yourself, thus saving yourself thousands. Interior painting could save you more than $1,000 a room. Doing your own demolition, as in pulling out appliances, plumbing fixtures, cabinets, and tiles could save you $2,000 to $5,000 or more. Check diynetwork.com for a how-to refresher, and be sure to walk through the process with your contractor before you start.
Tackling a renovation project can be thrilling and refreshing. It can also be expensive. But with some planning at least you can keep your project within budget. Now keeping it within your timeline is a whole other matter!