Design Dilemma: Developing A Personal Style for Your Home
We're always hearing from fashion designers about the importance of developing "a personal style." A personal style has nothing to do with being trendy, but rather is the idea that each of us has a distinctive personality that we reflect to the world by what we wear. That personal style supercedes trends, feels effortless, and should hopefully flatter our body type. If we are in touch with that style, we can step out the door looking fashionable and chic, no matter how little we've spent on our clothing.
Well, fashion and home design are not so far apart. Some of the same  advice you hear about a personal style in fashion can also be applied to style at home. And if you've got a personal style at home, you don't necessarily have to spend tons of money on expensive furnishings to have a home that feels chic, smart and comfortable.  Let's take a look at some of the most familiar fashion rules to see how well they apply to home design.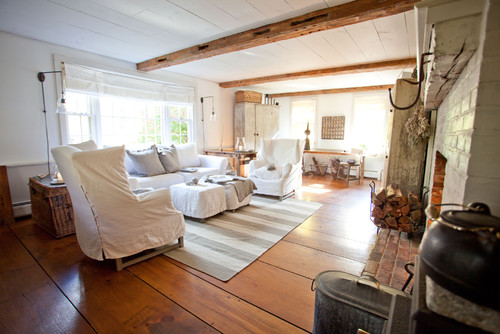 Know who you are.
In fashion, that means coming to grips with your age and dressing age-appropriately, knowing your occupation and your lifestyle. If you are a 60-year-old woman who lives in the country, working at a roadside fruit and vegetable stand, you'll look a little bit ridiculous tottering around on stiletto heels while you bag those apples.
Similarly, if you own a home in the country with several energetic children and rambunctious pets, it does not make much sense to adopt a buttoned-up design style that clashes with your down-to-earth lifestyle and that will be difficult to maintain. Instead, you'll opt for a style that is easy to keep up, and that reflects more accurately where you live and who you live with. The "modern rustic" style above, with eash-to-clean slipcovers and rustic furniture and minimalist tendencies may be more your style.
Look for inspiration.
This means keeping track of style options through design magazines and blogs, like this one! Do you know what Hollywood Regency is? Well, you would if you had been reading design magazines for the last 10 years! (The Hollywood Regency style (see below) samples from a smorgasbord of other styles –chinoiserie, neoclassical, art deco, modern–. Think a 1930s movie set. ) Do you find it inspiring?
Accentuate your assets.
Have you got wonderfully toned arms but flabby, thick legs?. Well, maybe you'll pass up the leggings this time but opt for a sleeveless shirt emphasizing the nicest part of your body. Similarly, if you've got a home with beautiful wooden floors, you'll want to decorate in a way that emphasizes that virtue.
Wouldn't it be a shame to cover up these beautiful wooden herringbone floors with wall-to-wall carpet?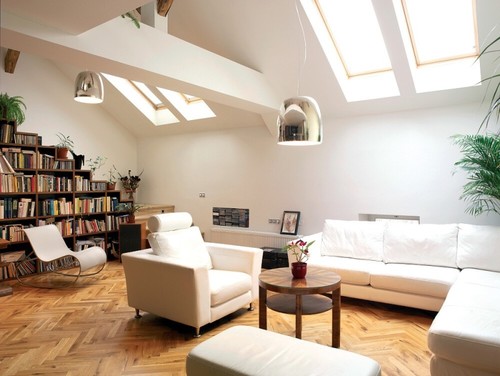 Pay attention.
In the world of fashion, this means learning more about fabrics, designers, design options, and what's out there. In the world of home design, it means learning the difference between a hardwood frame couch out of pure leather, and a pine-framed couch out of bonded leather. How do you do that? Shop around, ask questions, read design blogs, and take your time when making major purchases.
If you guessed that the couch above is not IKEA, but Moroso, you'd be right.
Stay in your comfort zone.
If you hate wearing a tie and you don't work in an environment requiring one, skip it. If you feel uncomfortable in what you're wearing, it will show, and there's nothing more unfashionable than that. Similarly, when it comes to home design, you can't invest in furnishings that are uncomfortable.  An all-white apartment is not chic if you love red wine and you become obsessed about red wine spills.
So what do you think? Does fashion advice apply to home design?