Design Dilemma: Easy to Clean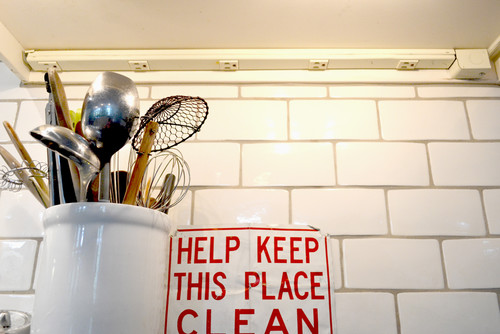 When you're picking out that new couch, floor or kitchen countertop, do you ever stop to ask yourself: hey, wait, how easy is this to keep clean? If you don't, you should, because the ability to keep a spic and span home will not only lift your spirits on a daily basis, (when you get to come home to a clean home), but it will also extend the life of your furniture and finishings. And the easier it is to keep your home clean, the less time you'll have to spend cleaning! So you see, it's worth some attention.
1. Choose flooring that's easy to keep clean — concrete or hardwood floors.
First choice, in my opinion, is hardwood, which is simple to sweep and dust or damp mop when needed, as long as it's got a protective sealer on top. As hardwood floors age, they just get better. Plus, they're a classic and work well with all types of furniture styles. But for those worried about scratches or the potential for water damage, concrete has to be the way to go. It may not be quite as comfy as hardwood, (it can be hard on the knees and joints) but when it's stained with a nonporous protective sealer it's a snap to sweep or mop and  impervious to spills. Another great choice can be tile, especially with so many great tile choices today, including wood-look tile.
Clean home no-no: wall-to-wall carpet. It's impossible to keep really clean, and is a horror for allergy sufferers or those with children and pets.
2. Choose washable paint.
This is an absolute necessity for anyone with pets or children. When the inevitable marks appear on the wall, you'll be able to whip out a sponge and restore the wall to its pristine state. And for those wanting to try something a little bit different look into vinyl wall coverings that mimic grass cloth, silk and linen. These coverings are easy to scrub down and they hide marks.
Clean home no-no: cheap, unwashable paint.
3. Opt for leather or eco-leather. 
Leather and eco leather furniture hold one huge advantage over cloth upholstery. If you want, you can sponge it off every day. Try that with a fabric chair! When opting for leather, choose darker colors, such as tan, chocolate or taupe, as white and ivory can stain.
Clean home no-no: couches and chairs upholstered in nubby white silk.
4. If you do fabrics, choose microfiber or slipcovers.
There are a myriad of microfiber fabrics out there that repel dirt and stains. These fabrics can look fresh and new for years with a little care, and they don't have to be that boring taupe microfiber you see everywhere. If you don't get microfiber, consider contract-grade fabrics that have been treated to be stain repellant.
Clean home no-no: untreated fabrics like velvet that attract pet hair and soak up liquids.
5. Avoid countertops and surfaces that stain easily —- Carrera marble, we're talking about you!
If you're looking for a countertop that won't show stains, that are hygienic and easy to clean, you have choices! Solid surface countertops like Corian, can be an excellent choice, as can stainless steel, quartz, formica, concrete or granite. However, if you're concerned about stains, avoid light stones that are prone to stain, such as white marble and some other stones.
Clean home no-no: If you're concerned about icky stuff getting stuck on your countertops, avoid tile, as foods tend to get stuck in the grout. A few other clean-freak tips:
 Beware of beadboard, chair rails, trim and millwork, as they can be a dusting nightmare. If you've got a lot of detail, be sure to invest in a feather duster and good windows to keep the dust at bay.
Take off your shoes when you enter the house. You'll be amazed at how much cleaner your home will stay without bringing in the outdoors on your shoes.
Limit knick-knacks and clutter. Cleaning surfaces becomes a breeze when you don't have to move dozens of objects to wipe, dust, vacuum or mop.