Design Dilemma: The Hotel Suite Design Trend
There's been a design trend in the works for several years now — that is the desire to turn our homes into a hotel suite. You see the trend everywhere —hotel style bedsheets and duvet colors, hotel styling of bedrooms, even accoutrements such as coffeemakers and small refrigerators in the bedroom!
What's behind this desire for the boutique hotel look? Most likely something to do with wanting to feel pampered. Although many of us may be in debt up to our eyeballs with declining wages and job prospects, it's nice to feel that there's a safe, luxurious haven at home. It's a small bit of pleasure, but pleasure nonetheless. And so, if you're after this look yourself, here are a few suggestions to ramp up into true hotel style.
Consider wall-mounted sconces and wall-mounted bedside tables.
Hotel suites often choose the most efficient mechanisms for furnishing the bedroom. Part of that efficiency comes in simple wall-mounted sconces, that allow for reading in bed or other task lighting, along with wall-mounted bedside tables that allow for increased floor space and easy cleaning. The bedroom above and below is a great example.
Here's another example:
Create zones for relaxing, computer work and TV viewing.
If you want to take your bedroom the full distance, you can take another page out of the boutique hotel playbook: create zones in your room for conversation and relaxation, work on the computer, and for TV viewing. In the Spanish hotel room below in a building designed by Frank Gehry, there's room for a living area, a study and for sleeping as well.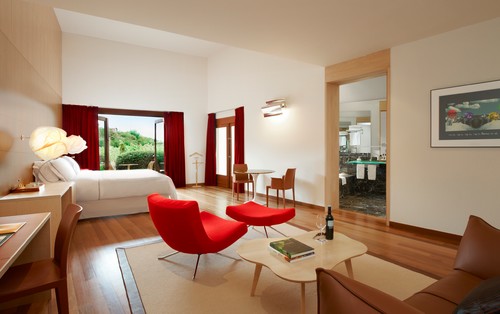 Here's another bedroom that does much the same thing: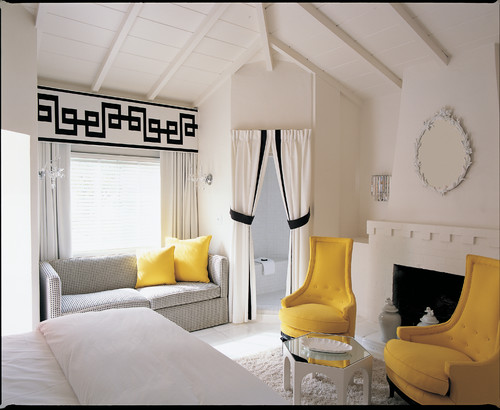 Invest in a top of the line mattress.
A luxury hotel offers mattresses of the utmost quality and comfort. You'll need one too if you hope to replicate the look and feel of a hotel suite. Below, a suite at the Mama Shelter in Lyon, France offers free on-demand movies, a refrigerator and a work desk.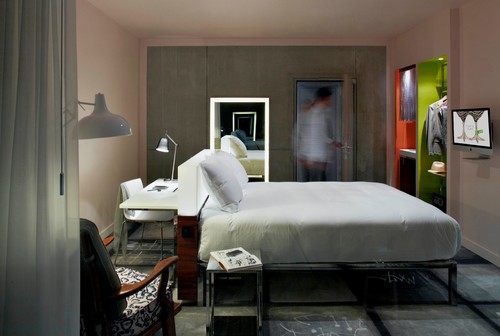 Clear the Clutter.
One thing that makes hotel rooms so restful is the lack of clothes heaped on chairs, and books, cups and magazines stacked on dressers and bedside tables. If you want your bedroom to feel more like a hotel, get rid of any trace of clutter that would impede on that peaceful feeling!
Below, check out a clutter free room of a hotel in Lucerne, Switzerland.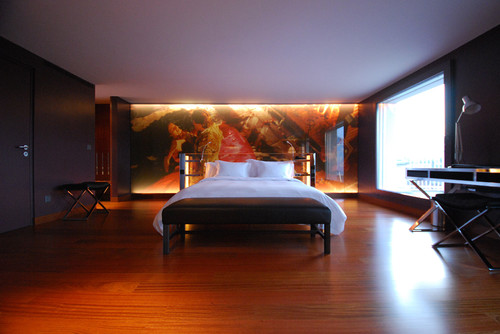 Add some mood lighting.
More than any other element, lighting is important to creating a restful mood in your bedroom. Light should come from several sources. For example, wall sconces, general overhead lamps, a reading lamp or table lamp on a desk or bureau. The  hotel suite above makes use of dramatic lighting embedded at the top and bottom of a glass wall that serves as a sort of headboard as well.
Add the extra touches.
So what are the "extras" that make your bedroom feel like more than just a place to crash? How about fresh flowers in vases, extra plump pillows on the bed, plush robes for lounging and a bowl of mints or chocolates at bedside. You may not be able to afford a room at the Ritz, but with a little thought, your own bedroom can feel just as nice!