Design Dilemma: Urban Vegetable Gardens
After a long, hard winter, it's finally growing season! What will you be planting this year? If you live in a city environment, you may respond "nothing". But just because you live in the heart of the city without a yard doesn't mean you have to forgo the pleasures of fresh produce and herbs. With a little creativity, you can enjoy your own homegrown fruits and vegetables, just like your friends living out on a farm. We've run across a few really good set-ups for vegetable growing.
Do you only have a balcony?
In the photos above and below, we see two great examples of balconies put to use to grow produce. Above, a sunny roof deck is the perfect place to erect a series of raised beds for vegetables. Below, a Tel Aviv balcony allows for just enough space for a planter which can accommodate orange trees and a few other fruit and vegetable plants. The great thing about the balcony below is that the planter is both functional and ornamental.
Below is a San Francisco roof deck utilizing the same principle. The water drains directly onto the wood, although in most cases, we think it's smarter to layer the bottom of any planter with gravel for drainage.
As you can see, raised beds are the first starting point of urban gardens, but your bed does not necessarily have to look like a traditional wooden box. For instance, aluminum barrels can offer a look that is more in keeping in an urban space:
Or you may opt for simple large containers instead. For instance, placing these sorts of containers on a patch of gravel can offer a great way to grow vegetables that also cuts down on weeds:
'Gourmet' orange bell peppers can grow happily in a 5-gallon terra-cotta pot: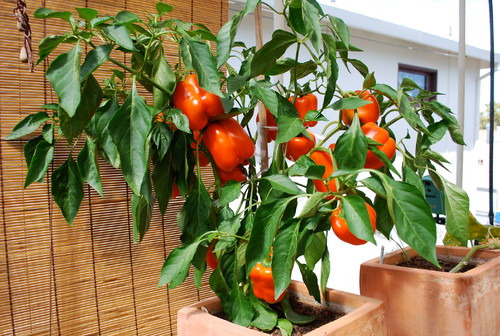 And so can eggplants:
A few tips for the urban gardener:
Find the sun. Find a spot on your balcony, roofdeck or yard that receives six to eight hours of sun a day. An area with a north-south orientation is ideal, in that it takes advantage of the east-west movement of the sun and gives veggies more exposure.
Look for vegetables that require less sun. In many cases, working in a tight city space means that you will be limited in terms of sun throughout the day. Tall buildings and other urban structures prevent long hours of full-on sun. Shade tolerant plants needing only three or four hours of sun a day include asian greens, kale, scallions, spinach, mesclun, peas, beans, lettuce and many herbs.
Create light. Bright, reflective surfaces near your garden will benefit plants. Try painting a nearby wall white or another light color.
Choose mini-varieties. To maximize space, select smaller varieties such as cherry or patio tomatoes, minicarrots, and bush varieties rather than vining types of cucumbers, melons, and beans, which take up more room.
Plot it out. A simple drawing of the garden is visually helpful and shows exactly how much space you have for each plant. This will prevent over-purchasing at the garden center. To prevent the tallest plants from shading out the low-growing ones, site them at the back, on the sides, or down the middle of the garden, depending on the orientation of your space.
Raised beds all the way. Especially if you live in an area with lots of pollution or heavy metals in the soil. A raised bed with purchased soil means you never have to worry about the safety of the vegetables you're growing.