Design Dilemma: What you should know about laminate floors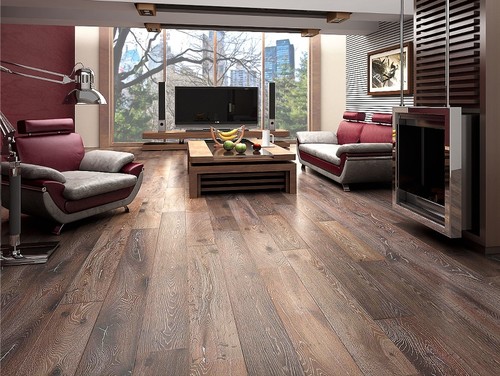 No doubt, wood floors are beautiful. But as beautiful as they can be, wood floors are not always the best design choice in certain circumstances. What's the next best alternative? Check out laminate flooring.
Invented in 1977 and first introduced by the brand Pergo to the European market in 1984, laminate flooring is relatively inexpensive, easy to install and holds up well to lots of foot traffic. Plenty of commercial enterprises use laminate for this reason. Laminate floors are a little more moisture resistant than traditional wood floors, so to a degree, they can be used in areas where wood is inadvisable. Laminates are built with a transparent, protective wear layer that is resistant to dogs, cats, chairs, and high heels. It needs no special cleaners and never requires waxing or polishing. The biggest appeal may be economics — laminate is available for as little as $2 to $4 a square foot.
Here's what you need to know about laminate floors:
Not all laminate is equal. There are laminates that are extremely cheap — and they look cheap too, and don't wear well.  Beware of suspiciously low prices and look for the seal of the North American Laminate Flooring Association, or NALFA. NALFA certification tells you that a product bearing its logo is recyclable and conforms to all regulations regarding formaldehyde emission.
Opt for laminate that does not use glue. Click-together laminate floors are easier to install, and by not using glue, your floor won't emit icky gasses that will pollute your home's air.
You can find laminate that looks like wood, marble, stone and tile. Every laminate piece contains a layer of a high-definition, detailed image that can realistically simulate all sorts of colors and patterns in natural materials. Because printing technology has improved dramatically since the early days of laminate floors, you can find high quality, textured laminates that appear to be pine, hickory, oak, saltillo tile, black slate, teak and more. Below, check out a slate floor.

And here's a laminate "tile" floor:

Below, a laminate "pine" floor:

You will need to put down an "underlayment" when installing a laminate floor. Underlayment (which may or may not be built into the laminate floor product) is a requirement for any installation. It's helpful in absorbing some of the minor imperfections in the subfloor, reducing some noise when walking on the floor, and softening some of the impact. Some underlayments also offer a moisture barrier on one side, which is a good idea for bathroom and wet-area installations.
Laminate floors installed directly on concrete or in areas with a lot of moisture need an additional moisture barrier. Before installing a laminate floor in a damp environment, consider that laminate floors can buckle and warp, just as wood does. Explain your plans to the retailer best to decide whether laminate is the best material for your needs.
It's resistant, but not indestructible. Laminate flooring is stain- and fade-resistant and has a tendency to repel water. It's an extremely hard and durable surface, but it is possible to scratch it. It's not possible to repair the actual scratches when they occur, so be sure to buy extra material with your initial purchase and hold onto it in case you'll need it later. Laminate can't be refinished, so once it's scratched or damaged, it cannot be salvaged.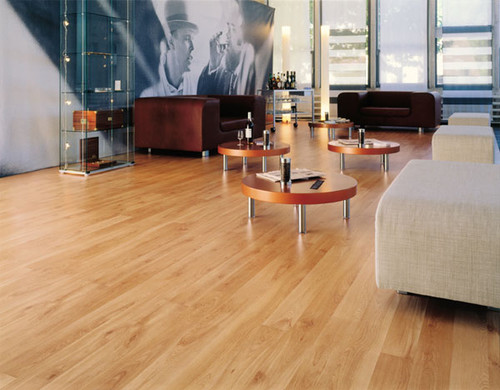 Is laminate for you? If your budget is tight and if your area is high traffic, laminate could be a viable option. Be sure to do your research carefully to purchase a floor that will withstand the test of time.