Design Dilemma: How to Tame A Loft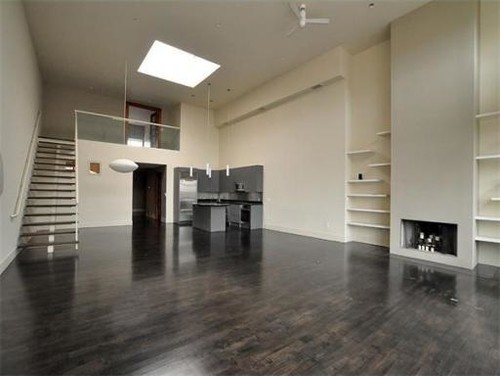 Lofts can be a whole lot of fun. The problem is that they often look like the Boston loft above. That is, they lack personality.
Now there's nothing wrong with this space. It's airy and has good light. Plus, we love the hardwood floors. And yet, there's no focal point, no personality.  The loft lacks flare because every element in it (and there aren't many)  seems to have equal status.
In an effort to rescue this 1750 square foot box from its plain vanilla blandness, architect Stephanie Horowitz, of ZeroEnergy Design, took a number of steps to give the space more pizazz. Take a look:
One of the first things to happen was a change to the fireplace, an obvious place to start since a fireplace is a natural focal point in a home. Horowitz outfitted it in a stone veneer to provide a striking contrast to the loft's white walls and bookshelves. She created a new stone fireplace surround, firewood box, mantel and hearth. In a daring move, the homeowners opted to remove the wood floors to expose concrete.
Here's another view:
The kitchen was the other area of blandness that needed addressing. Instead of leaving it all white, as it had been previously, the architect opted to warm things up with a walnut wood wall made of unfinished floor tongue and groove planks from Vermont Plank Flooring. From the top of the cabinets, they wrap up the wall and across the ceiling, surrounding an existing skylight. Horizontal planks on the left add texture and depth to the room, and create a transition from the kitchen to the staircase and loft above.
Here's another view:
And here's a view from the kitchen over to the stairway, leading to the bedrooms above.
Across from the kitchen is the dining room. The homeowners existing walnut dining table inspired the use of the walnut in the kitchen and other areas of the loft. The homeowners also customized a light fixture by Kenneth Cobonpue.
What's the take away from this renovation? Chiefly, even a modern, minimal loft can use some detail to inject some personality. Even if you are in pursuit of the white box aesthetic, it doesn't hurt to inject warm, personalized architectural features, like wood paneled walls or stone veneer, to make a so-so place stand out. The right details can warm up any space and will never feel too fussy.